Unknown Natural Talents

PUBLISHED:&nbsp2017-11-26
Talia is a boxing instructor waiting for her new and first time student Meryl. Meryl enters the mat room excited for her first boxing lesson. Talia says, since this is your first boxing lesson I'm going to teach you how to properly throw a punch. She starts instructing Meryl how to throw a punch. Meryl takes a few practice punches, then Talia has Meryl practice aiming her punches toward her. Meryl does well, but on the last one she accidentally hits Talia. Talia unprepared for the impact is knocked out and lands flat her back. Meryl panics and quickly wakes up her trainer telling her how sorry she is and how she didn't mean to hit her. Talia is a bit annoyed, but tells her OK and she needs to be more careful this time. Shaking off the accident, Talia starts instructing Meryl how to throw an uppercut, explaining to Meryl that she needs to aim for the chin. Meryl practices the uppercut a few times, then asks if she can practice aiming for the chin again on Talia. Talia reluctantly agrees, telling her to be really careful. However, after a few swings Meryl again accidently hits Talia square on the chin, knocking her out cold. This time when she wakes Talia up, Talia has had enough. Talia stands up and tries to punch Meryl, but Meryl naturally ducks out of the way and swings a punch of her own. Surprisingly Meryl's punch connects and again KOs Talia. Hmm, where did that come from? Meryl asks herself, surprised that she was able to dodge Talia's attack and KO her again. Meryl wakes Talia up again and says how she is sorry and that won't happens again. But Talia is really pissed off now and says you're going down bitch, then goes at her with a left and a right, but again Meryl bobs and weaves out of the way of Talia's punches. Meryl throws another punch that dazes Talia and then two more punches and Talia goes down again. Meryl still surprised at how well she's doing, she wakes up Talia again and now Talia is staring to get dizzy. She still pissed though, claims she was sparing Meryl before, but now she going get her ass kicked. Talia starts swinging her hands wildly, desperately trying to fight back. Meryl doesn't really have to dodge her punches any more, they're so off target. Meryl starts to plays around with her instructor, taunting her to do better. Meryl easily KOs Talia three more times. Meryl is starting to realize she's really strong now and is feeling pretty cocky. Meryl takes Talia's top off saying, you don't need this! Talia's being getting more and more dazed with each KO, but always tries to fight back, but now, she's barely able to stay on her feet. Meryl again toys with the dazed and almost out trainer letting her stumble around and swing wildly. When Meryl had enough fun she lands an uppercut KOing Talia one more time. With poor Talia laid out, with her tongue out. Meryl says, well, looks like you're done for. I should do a victory pose, but I never done one before. Let's see how this works. Meryl puts her foot on Talia's crotch and flexes, hmm, this doesn't feel right. Meryl moves her foot to Talia's belly, then moves her foot to Talia's face and flexes again. Yes, now this feels like a victory pose! Meryl takes her gloves off and then Talia's gloves and leaves the gloves on Talia's belly and walks away saying, looks like my training is over! I'm ready for a fight! You did a great job training me!
Video Information:
Lenght: 14:45 Minutes
LANGUAGE:

Format: MP4
Price: 11.99€ EUR
Movie Images Preview
RELATED VIDEOS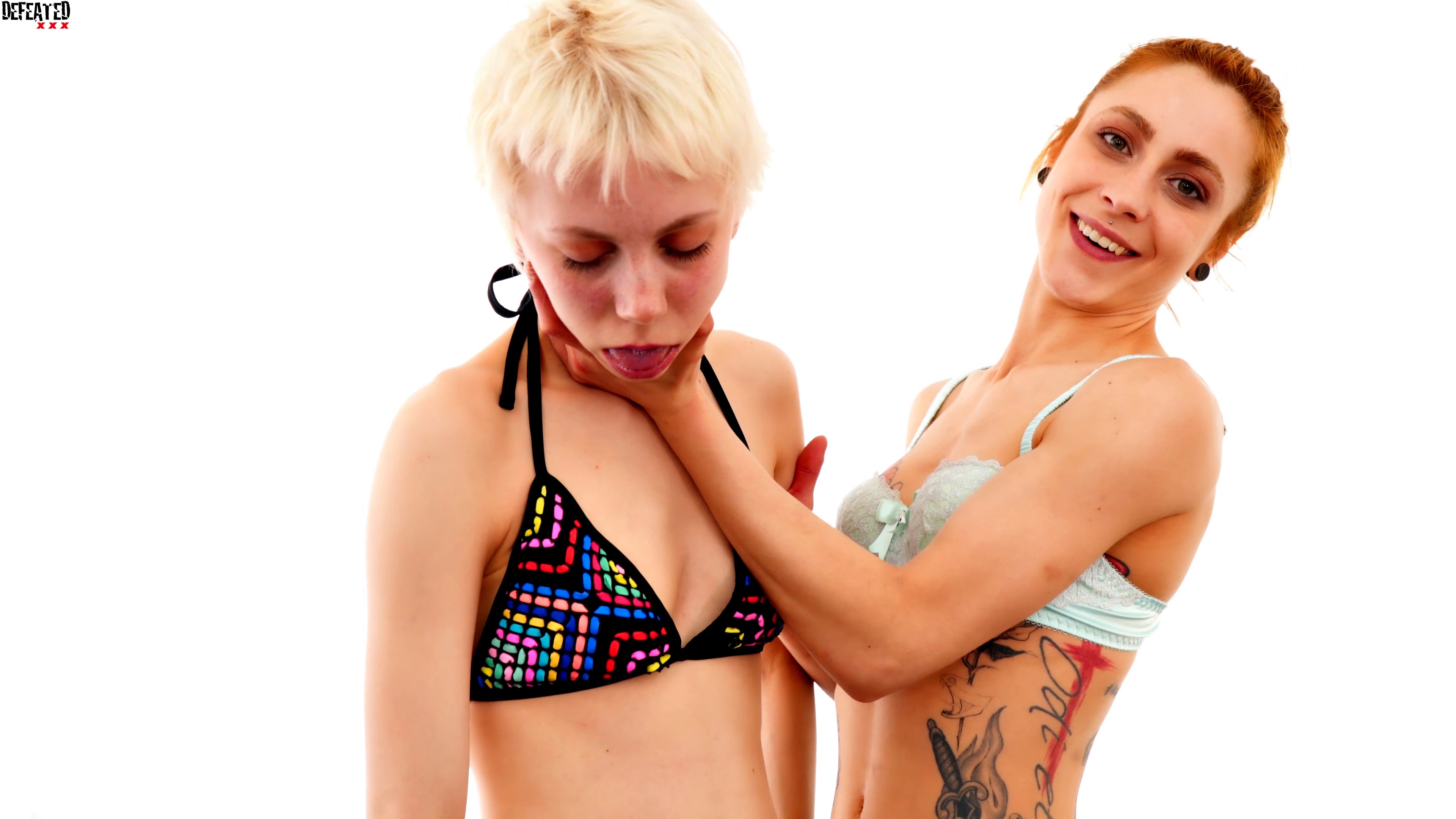 PUBLISHED:&nbsp2019-06-11

Defeated.xxx the best FETISH WRESTLING website around the net!
&nbsp

With the best fetish fighters around italy and europe, We produce many videos of many fetishes, including: Forced foot licking, forced foot kissing, forced foot smelling, bearhugs, knockouts, BBW wrestling, headscissors, facesittings, nipple torture, deathfights, nipple twisting, sumiko Wrestling, Forced Foot smother, Custom fetish video, Custom Porn video, Foot smother, Footsmother, Headscissor KO, Headscissor Knockout, Reverse headscissor, reverse headscissors and more! Join our membership section to see all our videos, we update many times each month!

&nbsp