Superior Girl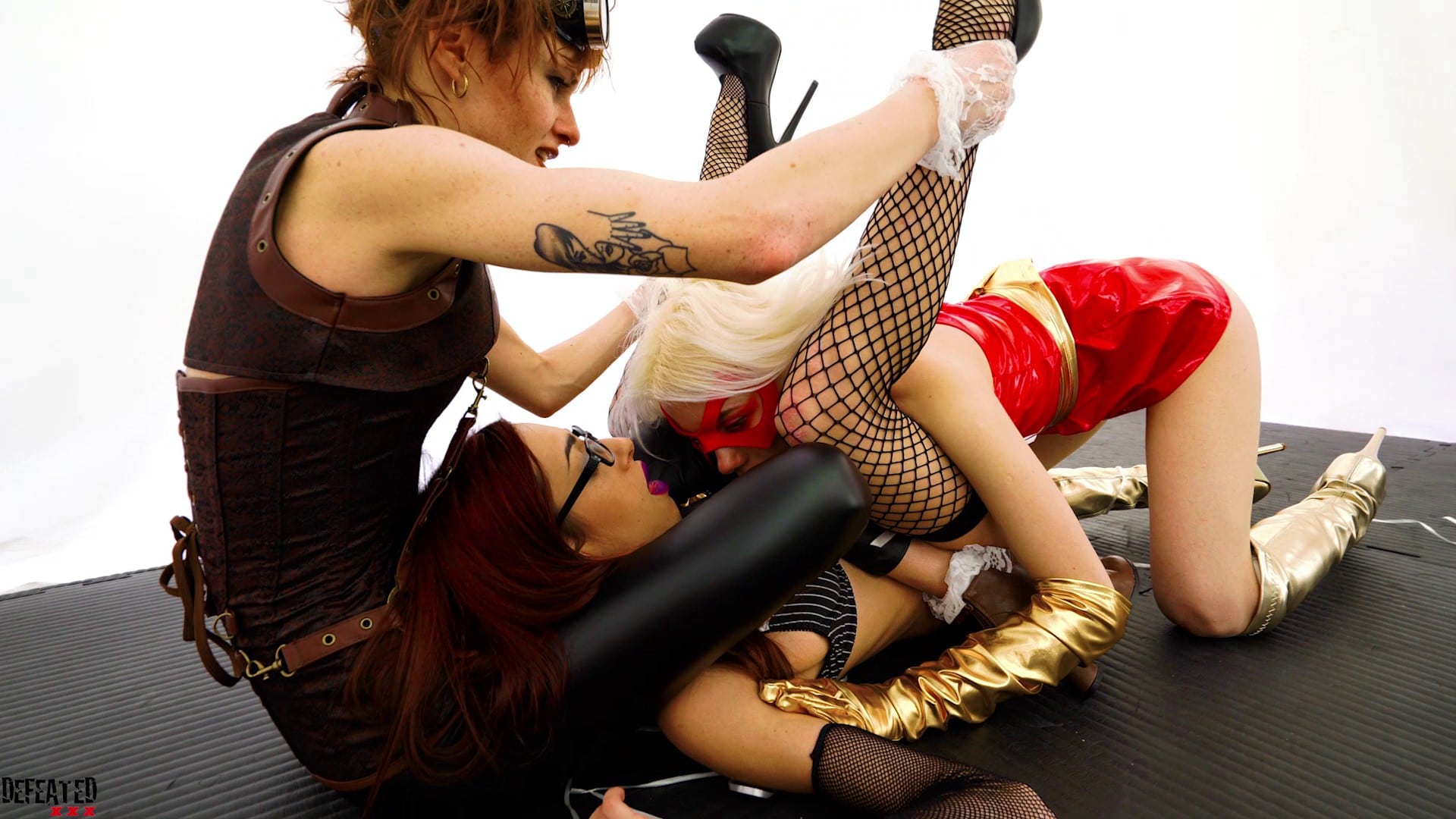 PUBLISHED:&nbsp2018-06-05
Description:
Superior Girl has been sent to earth to become a superheroine, expecting that she will be the strongest being on earth. However, it turns out that she is actually the weakest being on earth.
Superior Girl had no idea of this "detail", and finds out the hard way when she confronts Evil Woman during one of her world threating speeches. Things go really bad for Superior Girl the moment she tries to attack Evil Woman. She nearly breaks her own hand with her first punch, while Evil Woman isn't at all effected. It only gets worse from Superior Girl from here. Evil Woman strips Superior Girl of her costume and kisses all over her body, before choking her out with a one handed throat lift. Once Superior Girl is completely defeated and humiliated, Evil Woman poses Superior Girl in front of her and goes back the her speech to the leaders of the world. But luckily, Superior Girl intervention allowed the good guys to gain time, and Evil Woman is completely taken down from a shot.
What happens next, is that Superior Girl is brought in a secret organization's lab, where a strange doctor, Doctor Valerie, make some scientific experiments on her weak body.
Doctor Valerie's duty is to scientifically study her alien form. However, the much Doctor Valerie examines Superior Girl's body, the more she feels the compulsion of taking advantage of the subject weak body. Throughout the exams, Superior Girls passes out several times, being knocked out from simple tasks. While she is out, Doctor Valerie fondles and caresses her limp body.
In a clear headed moment, Superior Girl eventually gets angry from Doctor Valerie's behavior, and persuades her to set her free. So, Doctor Valerie listens to Superior Girl's words, and decides to help her escaping. They leave the lab, hiding in a new lair.
After a while hiding in the lair, trying to avoid Doctor Valerie's former organization, the two girls become more intimate.
Doctor Valerie still feel the urge of dominating, humiliating and playing with Superior Girl's limp body. She can't help herself, but if at the beginning Superior Girl was not accepting what Doctor Valerie did to her, then, later on, she started to forgive her, telling her that what she was doing was not her fault. So, feeling forgiven from Superior Girl, Doctor Valerie decides to join her, being her new sidekick, fighting evil and injustice. She also takes a new name, Oracle.
Occasionally Oracle gets out from their lair. She is not aware that she has been followed by Madam Mad-Scientist. Madam Mad-Scientist wants to take Oracle back to her secret lab to perform experiments on her. She knocks out Oracle by smothering her, and then she captures her. Then, once in her lab, Madam Mad-Scientist calls Superior Girls and tells her that is going to kill Oracle, unless she will come to her lair.
Madam Mad-Scientist is very confident of her position, as she had seen Superior Girl's previous attempt to take down Evil Woman: it's just a matter of time, and both girls will be hers.
So, she keeps dominating and conducting experiments on Oracle, until Superior Girl shows up. With Oracle unconscious, it's easy for Madam Mad-Scientist to have full control of the situation.
Never be so confident, though. Oracle wakes up just in time, sneaks up behind Madam Mad-Scientist. Oracle then finds a way to hit Madam Mad-Scientist hard enough to knock her out.
It looks like evil is once more Defeated… for the moment.
Included
Belly Kick
Over the shoulder carry
Bound to table
Camel clutch
TriangleHold
Lots of Twitching
Tongue protrusion
KOs
Up skirt shots
Side head scissors
Hand over mouth smother
Body scissors
Hands arounds throat choke
Octopus submission hold
Nipple twisting
Belly stomps
Boston crab
Double headscissors
Combination submission holds and KOs
Topless
Video Information:
Lenght: 1:32:54 Minutes
LANGUAGE:

Format: MP4
Price: 39.99€ EUR
Movie Images Preview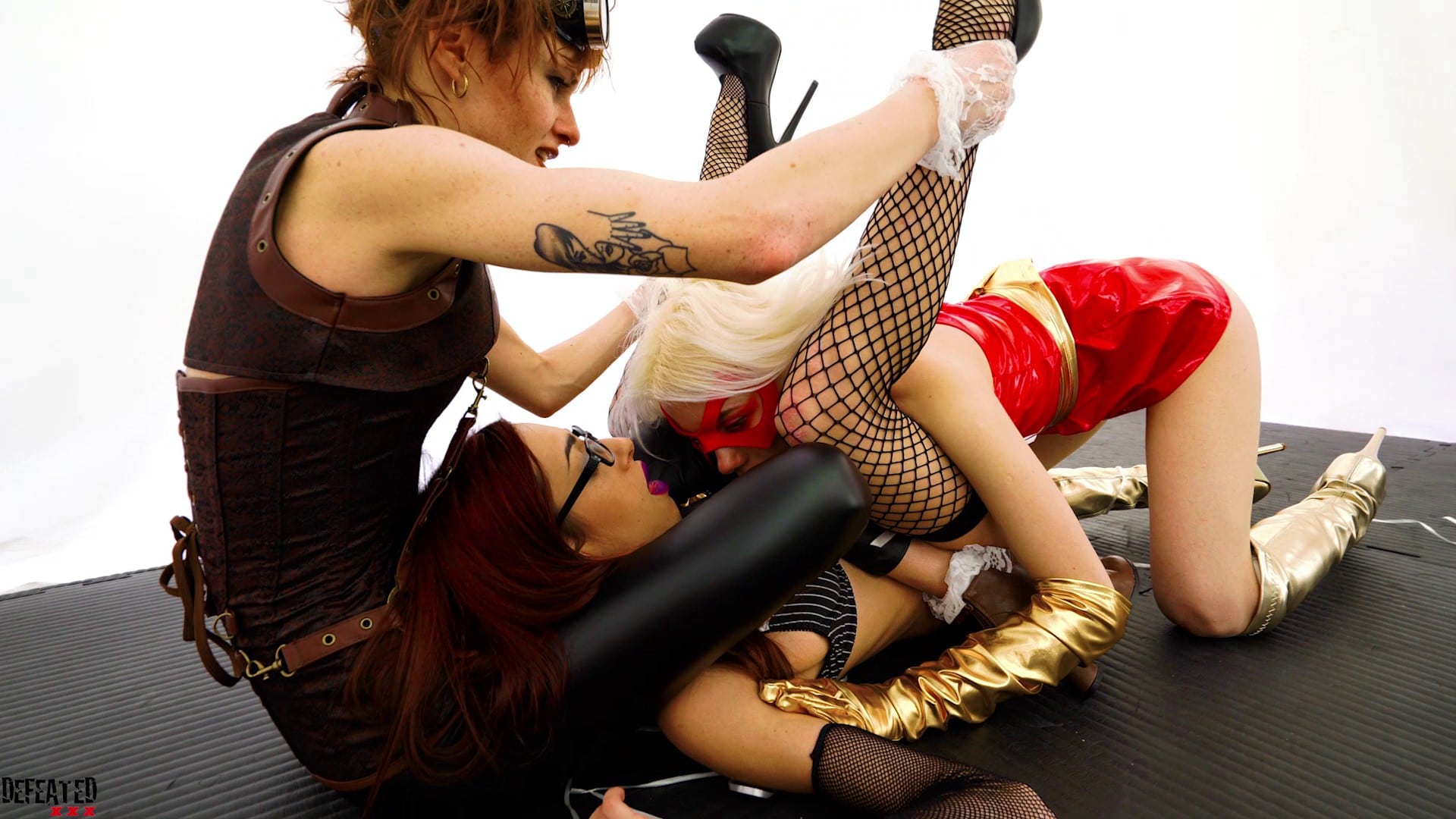 RELATED VIDEOS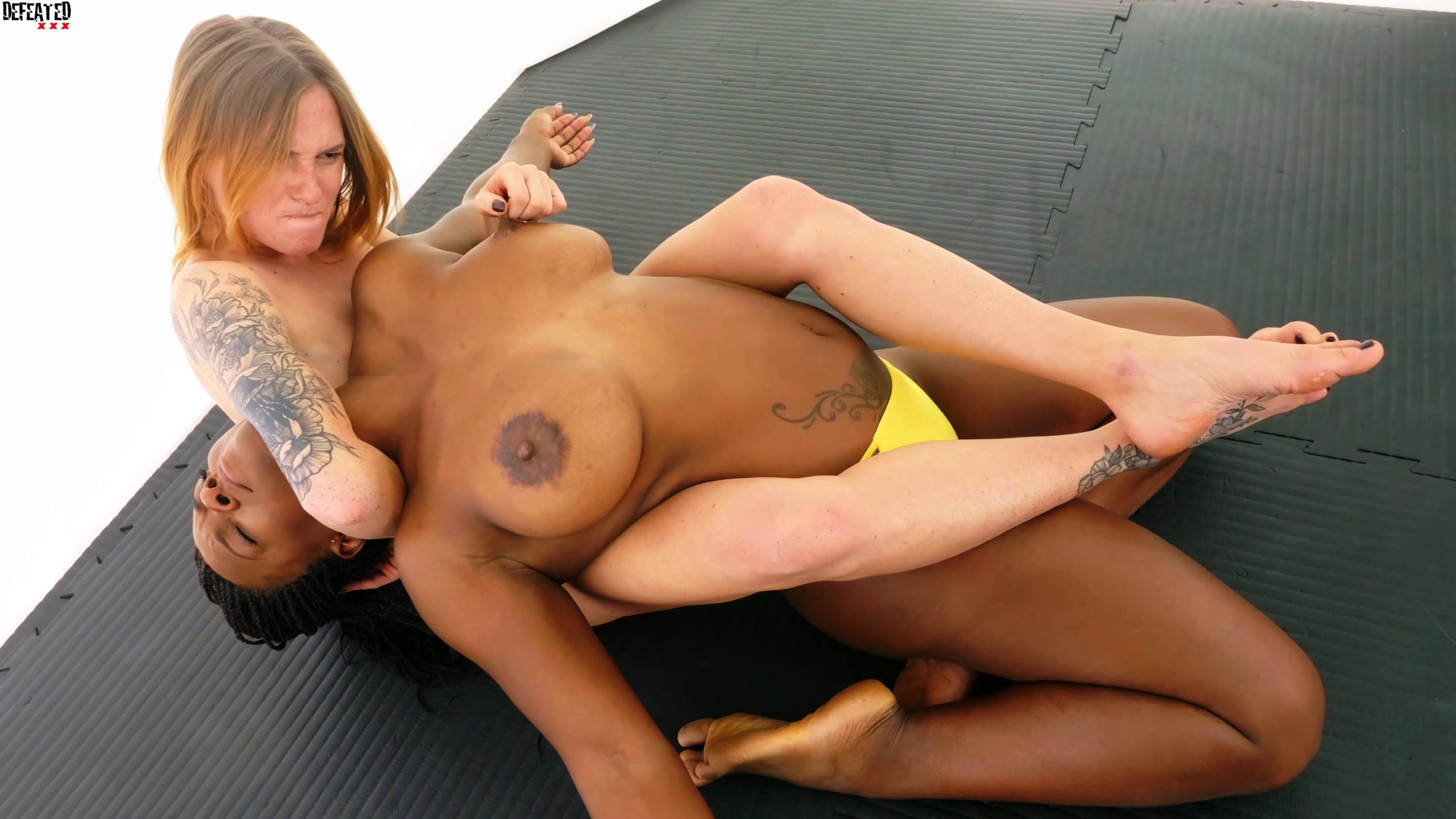 PUBLISHED:&nbsp2020-03-29

We produce many videos with the best fetish fighters around Europe. Our fetish genres include: girls fighting, catfight, female wrestling, foot licking, foot kissing, foot smelling, bearhugs, knockouts, limp play, over the top reactions, super heroines fight, facesitting, BBW wrestling, headscissors, facesittings, belly punching, boxing, fist fight, lift and carry, nipple torture, nipple twisting, wrestling, custom fetish video, custom Porn video, headscissor knockout, reverse headscissor and much more! Join our membership section to see all our videos, we update many times each month!
&nbsp