2Vs1 Wrestling Match Loser Humiliated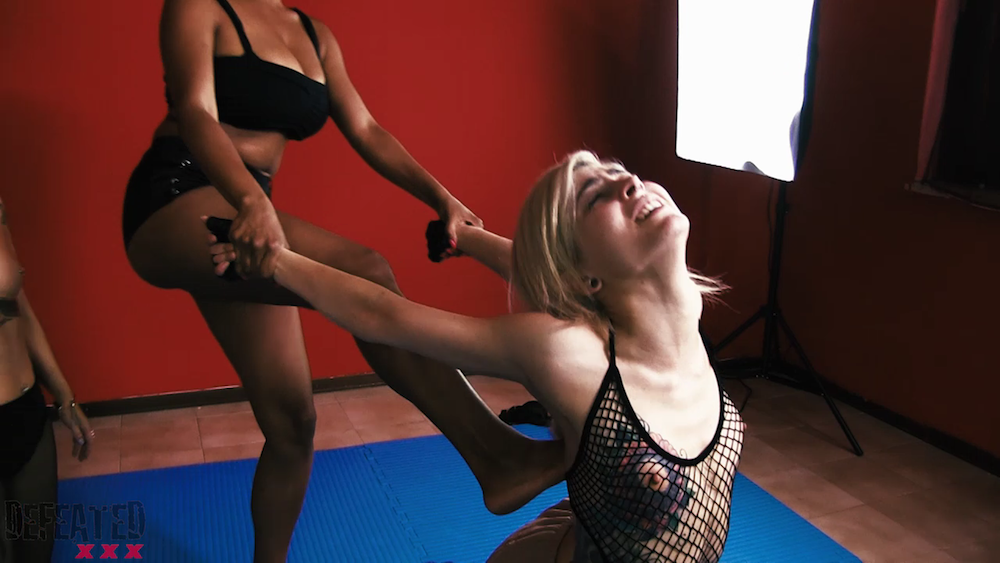 PUBLISHED:&nbsp2015-06-03
2Vs1 Wrestling Match Loser Humiliated with Torture: Nipple Twisting & Belly Punching
 Jade and Janelle have agreed to a
tag team wrestling
match against Stella and her partner, but Stella's partner hasn't turned up. Stella is very confident though and says she'll fight Jade & Janelle on her own!
First team to get 3
submissions
wins.
The fight starts off keeping to the rules and with
wrestling holds
.
However, with her opponents able to tag and switch places,
Stella finds it harder than she expected.
She resorts to
dirty fighting
, which leaves Jade and Janelle wanting revenge.Setting: MatsRound 1 (about 3 minutes)
Stella has the upper hand for most of the round and has both her opponents in trouble.
But Jade & Janelle keep escaping by tagging out and switching places.
Eventually Stella tires and submits when Jade traps her in a headscissor.
Holds in this round: test of strength (which Stella wins), kneeling surfboards, arm torture, scissors.
Round 2 (about 3 minutes)
Stella realises she has to stop her opponents tagging so tries holds where she can pin their arms.
First she pins Janelle face down and sits on her back.
She twists Janelle's arm, but she won't submit, so Stella pulls her hair.
Janelle still doesn't submit and manages to get an arm free and tags with Jade.
Stella then pins Jade face down and sits on her back.
Stella removes Jade's bra top, then pulls her hair. Next she puts Jade in a surfboard hold.
Jade still doesn't submit, so Stella traps her in a body scissor and attacks her nipples.
Jade tries to resist but can't free her arms and eventually submits.
Round 3 (about 4 minutes)
Jade wants revenge and soon removes Stella's crop top (Jade is also still topless).
The fight is then fairly even until Jade traps Stella in a head scissor.
Jade chokes Stella with her legs and pulls her nipples, but Stella won't submit.
Jade tags with Janelle, who immediately puts Stella in a camel clutch.
Stella still doesn't submit, so Jade tells Janelle to pull Stella's mesh bodystocking tight against her breasts.
Stella finds this too painful and submits.
Holds in this round: kneeling surfboard, scissors, camel clutch, arm torture, leg torture.
Round 4 (about 5 minutes)
Stella is now tired and almost beaten.
After that Jade and Janelle dominates Stella and tag many times.
Holds they use on Stella: belly punching, kneeling surfboards, leg torture, arm torture and nipple attacks.
The round finishes when Jade traps Stella in a head scissor and squeezes until Stella nearly . Stella submits, Jade and Janelle celebrate while she lies gasping for breath.
Ending
Jade puts her bra back on. She then stands on Stella's hair, so Stella can't escape.
Jade says to Janelle that she wants to punish Stella some more.
Stella hears this and tries to get up, not realising Jade is standing on her hair, she painfully finds she can't get away.
Jade pushs Stella to her feet, holding her by the hair.
Janelle punches Stella's belly while Jade holds her up.
Janelle then pulls Stella's nipples before they let her collapse to the floor.
Next Jade puts Stella in a headscissor. Janelle punches Stella's belly, while Jade pulls her hair and nipples.
Finally Jade takes Stella by the hair and leads her over to the sofa. She positions Stella so her back is on the arm rest, with her head and shoulders hanging over the end.
Jade pulls Stella's head towards the floor by her hair with one hand and squeezes one of Stella's nipples with the other.
Janelle continues to punch Stella' belly.
They leave Stella in that position when they've finished enjoying themselves.
Language is English!
Including:
Female Wrestling
Nipple Torture
Arm Torture
Belly Punching
Kneeling Surfboard
Boston Crab
Painful stretches
Leg Torture
Camel Clutch

[/am4show]
RELATED VIDEOS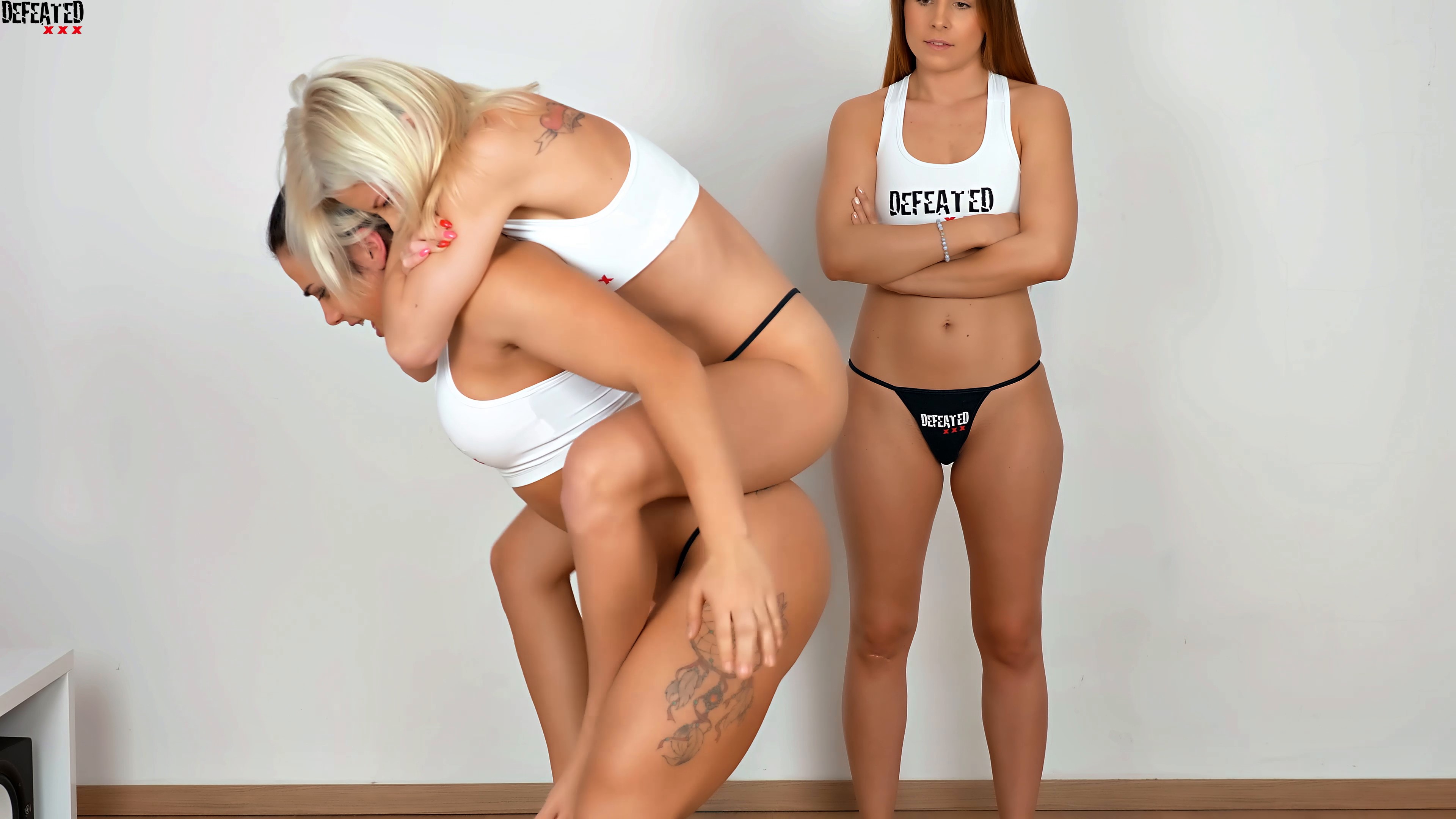 PUBLISHED:&nbsp2019-07-14

Defeated.xxx the best FETISH WRESTLING website around the net!
&nbsp

With the best fetish fighters around italy and europe, We produce many videos of many fetishes, including: Foot licking, foot kissing, foot smelling, bearhugs, knockouts, BBW wrestling, headscissors, facesittings, nipple torture, nipple twisting, sumiko Wrestling, Custom fetish video, Custom Porn video, Headscissor Knockout, Reverse headscissor, reverse headscissors and more! Join our membership section to see all our videos, we update many times each month!

&nbsp