Sneaking, Betrayals, Cheating and Revenge

PUBLISHED:&nbsp2018-02-14
Nix challenges Lilith to a wrestling match, not knowing exactly who she is confronting.
After all, Lilith has quite an experience in terms of fighting, and Nix is only a newcomer.
So, as predictable, Lilith proves to be an expert wrestler. She quickly submits and send Nix to KO so easily, leaving her with her tongue out and with her eyes rolling.
Lilith's moves are old classics, but she knows well how to apply them.
She uses standing scissorhold, gogoplata and TriangleHold, posing on her each time, on her trophy.
But Nix has her own ace in the hole…
Twist in tale, suddenly Dee sneaks into the fighting room, comes from behind and surprises Lilith, blocking her into a TriangleHold who sends her KO'd.
Dee and Nix kiss while posing on the defeated Lilith. Dee then blocks her into a lotus hold, twisting her nipples to make her pay for her actions.
Nix as well plays with the defeated victim. She belly punches her, cunt busts her and finally she sends her KO with a hand over mouth smother.
Dee lifts Lilith over the shoulder and poses.
But this is not enough, they want to have more fun with Lilith.
So, they play "Bearhug", to see who bearhugs better, throwing her from a bearhug to another; then they destroy her in a really hot double team scissorhold.
3 Hours Later…
We now understand that Dee is Nix' slave. To celebrate their victory, Dee worships Nix' feet, while Nix is filming her.
Nix wants to be the best woman around, and Dee has to be humiliated more.
So Nix blackmails Dee about showing the video to Lilith, which she does.
A suspicious Lilith comes and understands that Nix is not joking.
Nix really wants Lilith to humiliate Dee more.
Dee is humiliated by the one who she humiliated before, without any chance to react. She get ordered to get naked too, to add spice.
Girls are laughing about her shame, and they want her as maid too!
"Dee go to take some water for us!"
This is too much to take, as Dee has always been a good slave to Nix.
So, Dee elaborates a plan. She takes with her sleeping pills in order to knock out both girls.
Her evil idea works, as both girls pass out soon. While the girls are going down, Dee puts out a dreadful laugh.
Later, she uses Lilith as phone holder while she is humiliating Nix, forcing her to lick her perfect soles.
Nix is completely disgusted but she has no chances to react.
When Dee is satisfied she leaves with the recorded video.
Nix is so humiliated… this won't finish here. Proud Nix is going to get her revenge.
She is sure that Dee would have met Lilith for her part.
So, no trouble in surprising them. Nix destroys them with double bearhugs, double headscissors, double TriangleHold.
Finally, to humiliate Dee, she blocks her in a full nelson, where she can see Lilith being smothered to KO.
Dee is in pain and scared, and she gets knocked out with Nix' footsmother.
Ultimately, a satisfied Nix poses over their bodies and goes away.
Including:
Over the top knockouts
Female Wrestling
Go go plata
Standing Headscissors
Cunt Busting
Hand over mouth smother
Belly Punches
Lift & Carry
Double TriangleHolds
Double Bearhugs
Double Headscissors
Foot Smother
Foot Licking
Video Blackmail
Lots of Victory Poses
Video Information:
Lenght: 45:34 Minutes
LANGUAGE:

Format: MP4
Resolution: HD
Price: 29.99€ EUR
Movie Images Preview
RELATED VIDEOS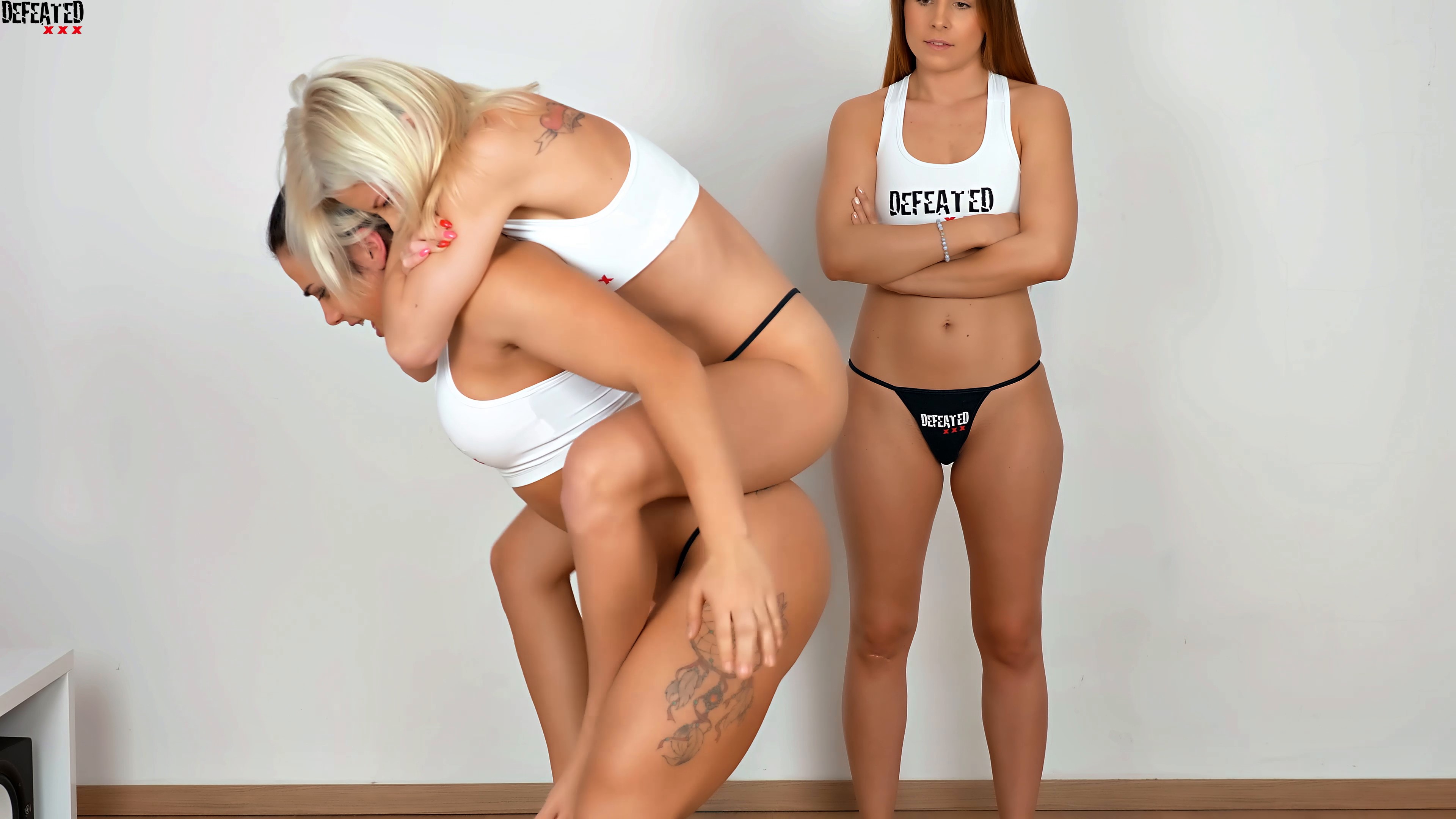 PUBLISHED:&nbsp2019-07-14

Defeated.xxx the best FETISH WRESTLING website around the net!
&nbsp

With the best fetish fighters around italy and europe, We produce many videos of many fetishes, including: Forced foot licking, forced foot kissing, forced foot smelling, bearhugs, knockouts, BBW wrestling, headscissors, facesittings, nipple torture, deathfights, nipple twisting, sumiko Wrestling, Forced Foot smother, Custom fetish video, Custom Porn video, Foot smother, Footsmother, Headscissor KO, Headscissor Knockout, Reverse headscissor, reverse headscissors and more! Join our membership section to see all our videos, we update many times each month!

&nbsp