Rubber Gloves Wrestling Match – Stella Vs Janelle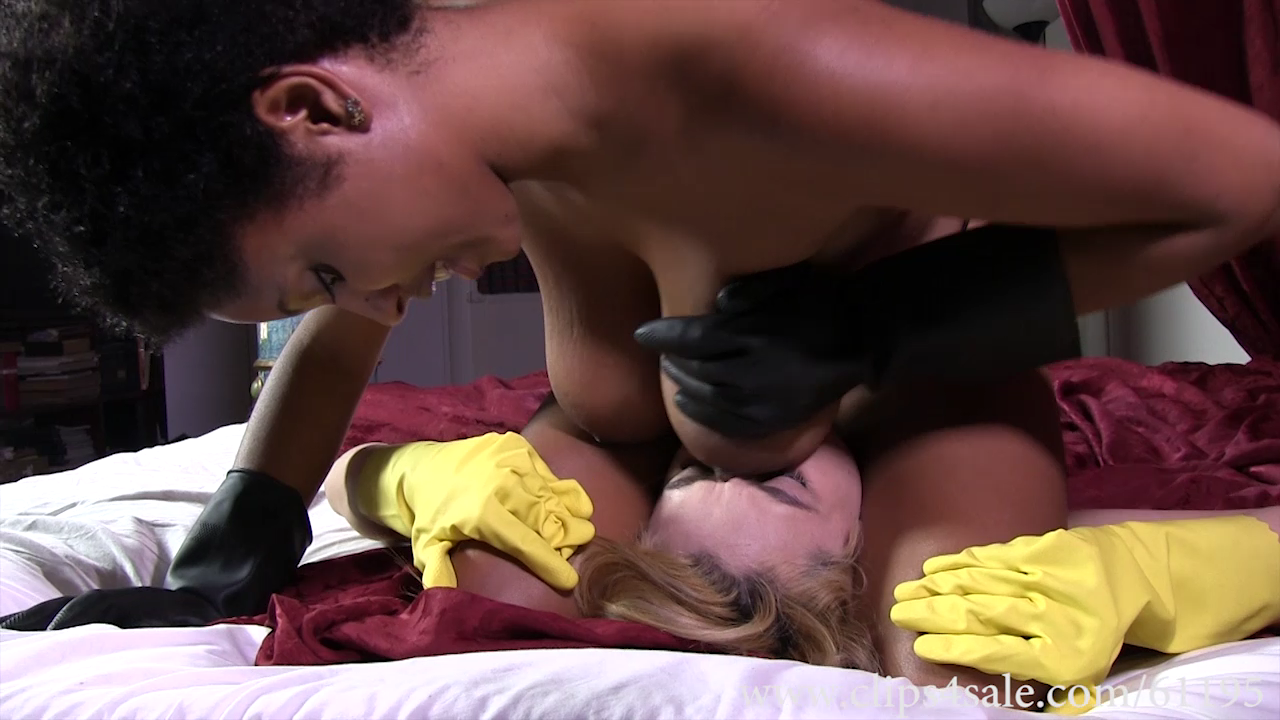 PUBLISHED:&nbsp2015-01-21

Rubber Gloves Wrestling Match
ATTIRE:
Stella: White lingerie and pink rubber gloves in the beginning – yellow rubber gloves from the middle of the fight until the end.
Janelle: Dark coloured lingerie and black rubber gloves.
SETTING:
Large bed.
ACTION:
INTRO: Both girl entering the reposeing room hand in hand, stepping on the bed and putting on their rubber gloves. They oiling each other up a little bit and play with each other softly. Snuggling and fondling. During this Stella is asking Janelle: "Who do you think is the stronger girl of us? I would love to dominate you in a wrestling contest." Janelle is smiling and answers:" I'm pretty sure that you will be the one who gets dominated by me if we wrestle." – Stella answers: "I would love to find out. Let's wrestle for 15 minutes and see who gains more submissions." Janelle smiles and answers again: It's for sure not you. Let's find out and wrestle!"…. both girls take place on her knees in the opposite of each other and faces each other….Janelle smiles again and says: " Come on, if you think you're stronger than me, attack me!". The wrestling action starts…THE WRESTLING ACTION:
Janelle totally dominates Stella all the time, from the first to the last second. The wrestling action is devided into 3 parts:Part 1: Playful, soft wrestling. Both girls have fun, smiling a lot and Janelle easily took control over Stella, getting 3 quick points by a bodyscissor (first submission), a camel clutch (second submission) and a schoolgirl pin (third submission) within the first 2 minutes. By doing the schoolgirl pin and sitting on Stellas breasts Janella is asking her:" Looks like the black girl is stronger than the white girl. Do you still think you will dominate me?" Than Janelle counts SLOW from 1 to 10. Stella is moving and tries to escape, but there is no chance. The score is 3:0 for Janelle after this.Part 2: Rough and intense wrestling action, very enthusiastic. Both girls take the wrestling now very serious. No smiling, just hard wrestling, hard domination. Janella uses now hard and painful holds to dominate Stella. She puts Stella again and again and again quickly into very hard holds, mostly scissors (bodyscissor, breast scissor, headscissor), a schoolgirl pin and a crossbody pin and a few more sexy and hard holds. Stella is struggling hard and moving around under Janelle, but without a chance to break free. In this part it is obviously, that Janelle is MUCH MUCH stronger and better in wrestling. She frustrates Stella with her holds. The score after this part is 9:0 for Janelle. In the middle of this part, just after Janelle is scoring the 6-0, Stella says: "It's getting hot, I will take off my top." Janelle takes off her top, too. Then Stella changes from her pink rubber gloves to the yellow rubber gloves. Janelle says: "Huh, these yellow rubber gloves are looking sexy. But they will not help you to win." Stella answers:" You're just in the lead, you haven't won." Jannelle laughs… The wrestling action continues with the submissions 7-0 to 9-0…Part 3: Stella is completely exhausted and it's clear that she has no chance. Total domination now, Stella can't fight back anymore. But Janelle wants more points and uses now very sexy holds to make Stella submit again and again. At the end the final score is 12:0 for Janelle. The last point is a painful and sexy lotus hold. During this hold Janelle is fondling Stellas breasts and asks her: "Should we stop at this point? It's more than obviously who is the stronger girl of us, isn't it?" – Stella is gasping for air, still helpless in the lotus hold and answers": Ok Ok, you have won. You are stronger than me. Please let me go, I do whatever you want!!!"…. Janelle releases the hold. Stella is lying on her backside, completely exhausted…..OUTRO: Janelle is sitting on her knews beside Stella, who is still laying on her backside. Janelle moves down and kisses Stellas breasts and speaks to her: "Nice match! 12 points for the black girl, no points for the white girl. You are so beautiful. And you are even more beautiful in defeat. and you know what? You will get another chance to wrestle me and do a little bit better. Invite your 2 most sexiest girlfriends for a small wrestling tournament. Every girl wrestle each other girl. Let's see who will win." Janelle puts off her rubber gloves and throw them on Stellas stomach, stands up and leaves the room. Camera is still on Stella, who moves up very slowly into the sitting position (on her knees). Stella is putting off her yellow rubber gloves carefully and SLOWLY, too. She takes her rubber gloves into one hand and Janelles rubber gloves into the other hand and leaves the room, too.
RELATED VIDEOS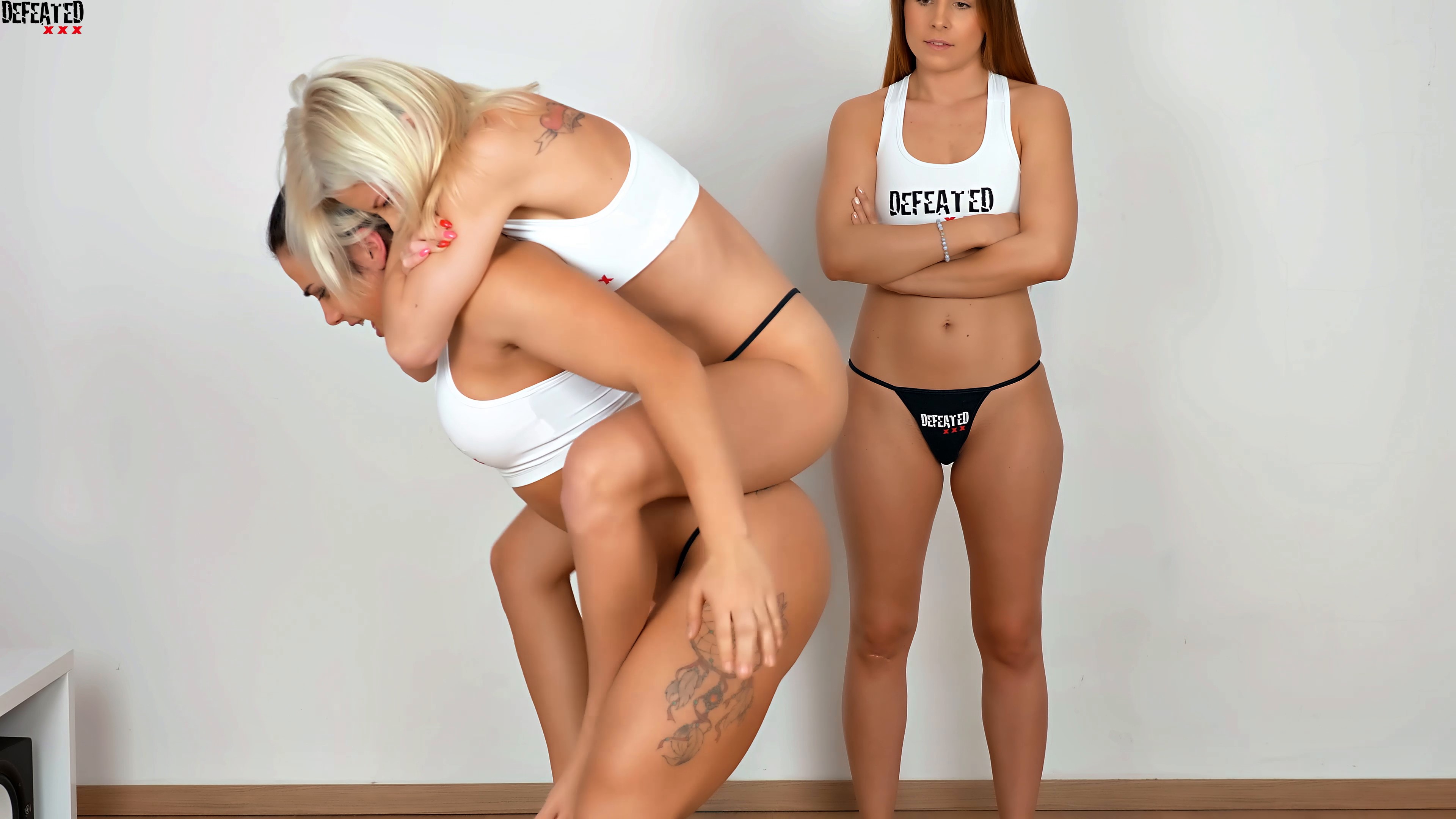 PUBLISHED:&nbsp2019-07-14

Defeated.xxx the best FETISH WRESTLING website around the net!
&nbsp

With the best fetish fighters around italy and europe, We produce many videos of many fetishes, including: Foot licking, foot kissing, foot smelling, bearhugs, knockouts, BBW wrestling, headscissors, facesittings, nipple torture, nipple twisting, sumiko Wrestling, Custom fetish video, Custom Porn video, Headscissor Knockout, Reverse headscissor, reverse headscissors and more! Join our membership section to see all our videos, we update many times each month!

&nbsp