Queen Elizabeth KO'd and ragdolled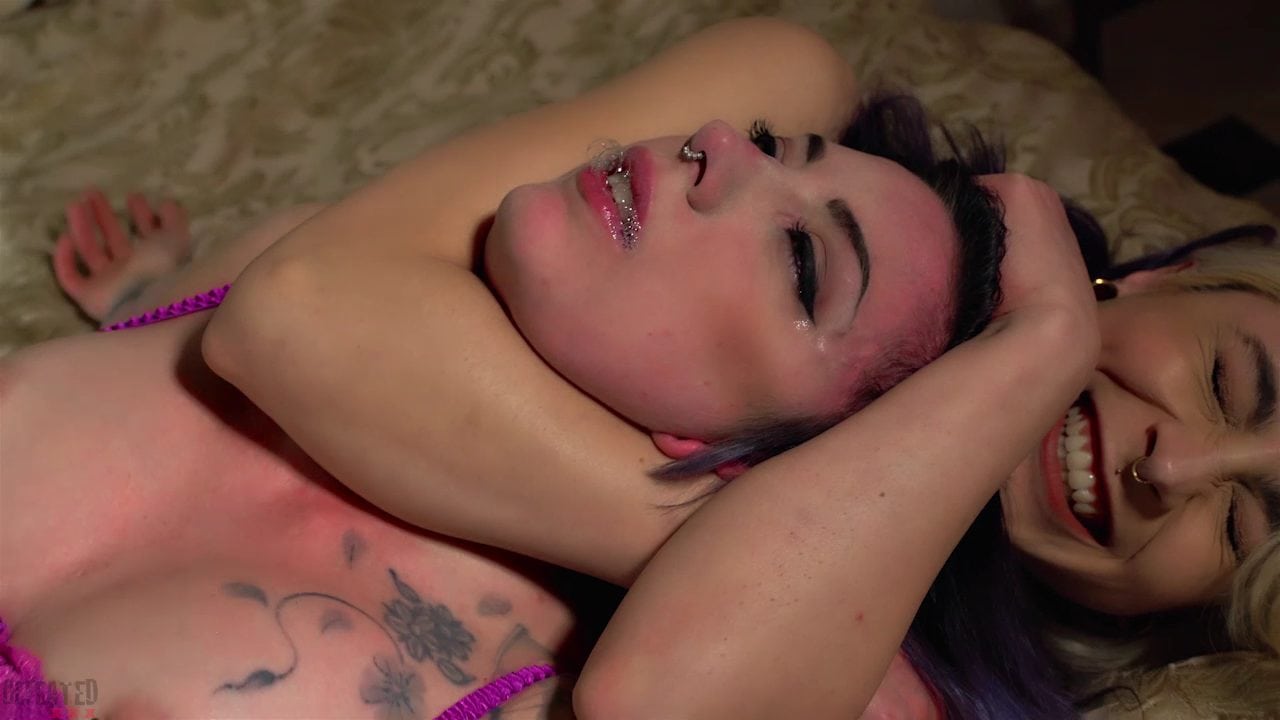 PUBLISHED:&nbsp2017-01-28
Elizabeth is in front of the camera bragging about how no one can beat her and showing off her amazing body. She calls herself "Queen Elizabeth" explaining that she's never lost a match no matter what they do because she's so strong and ever one else is shit. Stella sneaks in behind her and hits her with a low blow uppercut. Elizabeth drops to her knees then Stella chokes her out with a sleeperhold. Elizabeth struggles, but slowly goes ko. Stella lets Elizabeth go and she falls down face first with her butt in the air. Elizabeth is out cold and Stella ragdolls Elizabeth using a lot of chokes, belly punches, low blows and scissors that make Elizabeth's eyes roll and make her body twitch and convulse. Stella cracks jokes about Elizabeth being a loser and how she's made a new dance while Elizabeth is twitching uncontrollably. After a sometime of torment and punishment, Stella pins Elizabeth for a 10 count. However, Stella isn't done just yet, Stella starts to kick and punch Elizabeth in the belly and crotch furiously, casing even more twitching from "Queen Elizabeth. A final sleeperhold is used on Elizabeth who can only twitch and roll her eyes, she even drools from the tight sleeperhold. Stella pins Elizabeth again for another 10 count. Stella then poses over the beaten Elizabeth saying "you just got destroyed by a jobber, you're not as tough as you think you are!" Elizabeth is left twitching on bed. Soon Elizabeth slowly wakes up, struggling to sit up, "what happened?" is all she can utter before she Ko again, face down with her butt in the air.
(Special thanks to Alan BNDA Supamark who wrote the script and description)
RELATED VIDEOS
PUBLISHED:&nbsp2019-05-10

Defeated.xxx the best FETISH WRESTLING website around the net!
&nbsp

With the best fetish fighters around italy and europe, We produce many videos of many fetishes, including: Forced foot licking, forced foot kissing, forced foot smelling, bearhugs, knockouts, BBW wrestling, headscissors, facesittings, nipple torture, deathfights, nipple twisting, sumiko Wrestling, Forced Foot smother, Custom fetish video, Custom Porn video, Foot smother, Footsmother, Headscissor KO, Headscissor Knockout, Reverse headscissor, reverse headscissors and more! Join our membership section to see all our videos, we update many times each month!

&nbsp