Nipples Torture Fight: Janelle Vs Stella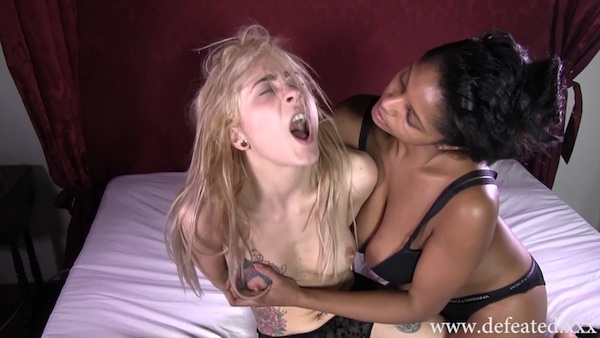 PUBLISHED:&nbsp2015-02-07
Nipples Torture Fight!
Janelle enters the room to find Stella dressed ready to go out, finishing her hair and make up.
Janelle asks Stella where she is going. Stella smiles and tells Janelle she's going out with her ex.
Janelle becomes angry and starts insulting Stella. Stella laughs at first but then gets offended and tells Janelle that if she really wants him back, she'll have to fight for him.Janelle grabs Stella and throws onto the bed and the fight begins.
Initially the fight is even, but Stella soon pulls Janelle's bra down to attack her nipples and gets the upper hand.
Stella then face sits Janelle (reverse position) whilst continuing to twist her nipples. Stella holds this position until Janelle .
While Janelle is , Stella removes Janelle's bra and both of her nylons. She uses one nylon to tie Janelle's hands to the bed post. Then she wakes Janelle up.
With Janelle helpless Stella attacks her breasts and nipples.
First she runs her fingernails over them (implied scratching), then she takes Janelle's other nylon and uses it like a garrotte around Janelle's breasts with nipples out.
Finally Stella starts twisting and pulling Janelle's nipples again.
When she's satisfied she's inflicted enough pain, Stella tells Janelle she's lost and leaves her tied up on the bed, while Stella returns to fixing her hair and make up.While Stella is busy with her back turned preparing for her date, Janelle manages to free her hands.
She puts her bra back on, then grabs Stella by the hair and pulls her back onto the bed.Janelle takes control of the fight. Using various holds she slowly strips Stella down to just her panties.
Starting with her shoes, then tank/ vest top, then jeans and finally her bra. She also pulls Stella's hair, messing it up, so as to undo all her preparations for the date.
The holds Janelle uses: reverse face sit, body scissors, scissors across breasts and camel clutch.
In this section Janelle also tortures Stella's nipples and attacks her crotch.Janelle pins Stella face down on the bed, sitting on her back.
Janelle then pulls Stella's hair for a prolonged time.
Next Janelle takes one of her nylons and ties Stella's hands behind her back. She then pushs Stella to her knees and holding her still by the hair begins to scratch and bite Stella's nipples until Stella admits she's lost.
Language: First 2 Minutes English – Rest Italian
RELATED VIDEOS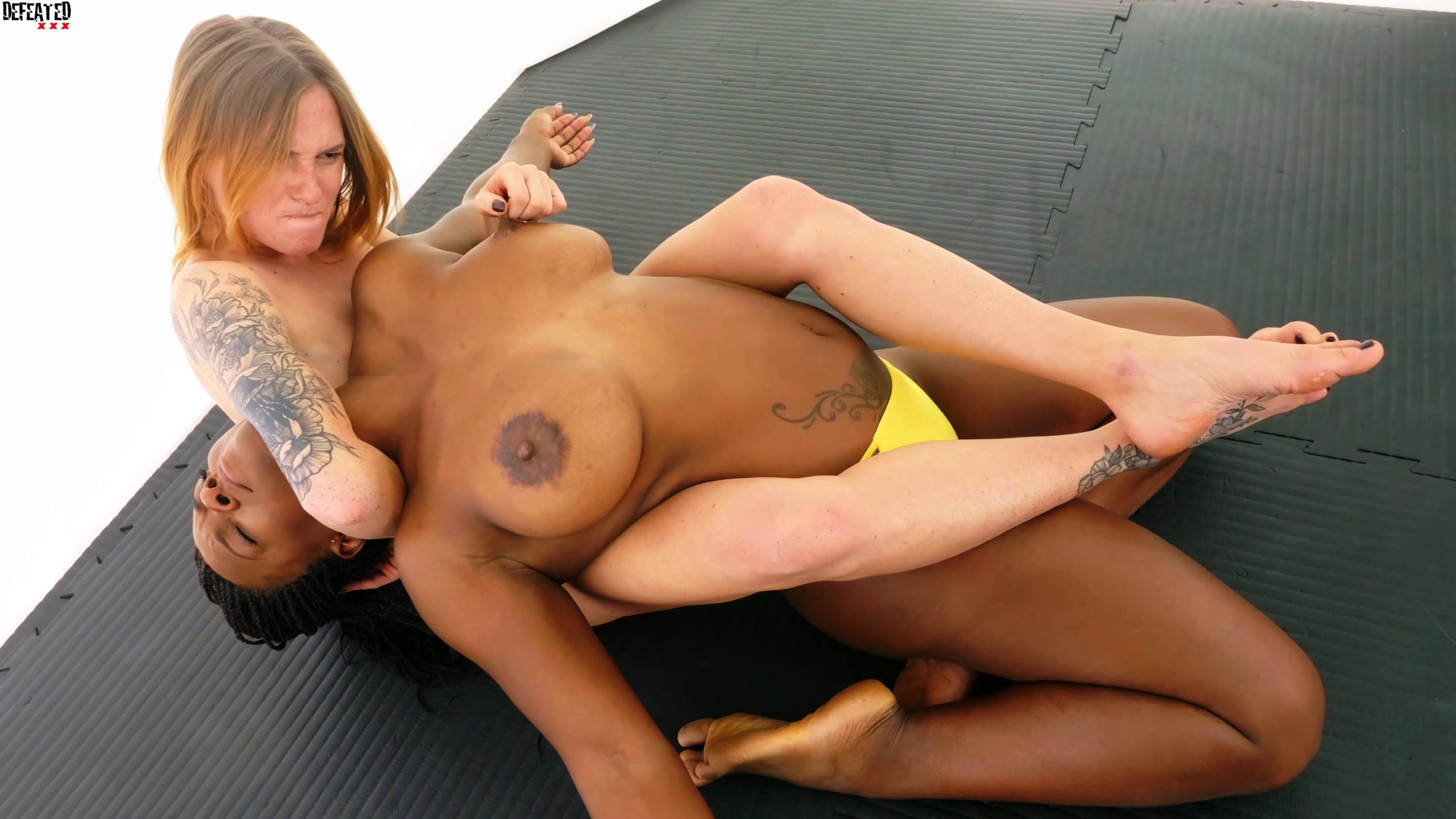 PUBLISHED:&nbsp2020-03-29

We produce many videos with the best fetish fighters around Europe. Our fetish genres include: girls fighting, catfight, female wrestling, foot licking, foot kissing, foot smelling, bearhugs, knockouts, limp play, over the top reactions, super heroines fight, facesitting, BBW wrestling, headscissors, facesittings, belly punching, boxing, fist fight, lift and carry, nipple torture, nipple twisting, wrestling, custom fetish video, custom Porn video, headscissor knockout, reverse headscissor and much more! Join our membership section to see all our videos, we update many times each month!
&nbsp