Scarlett Vs Black Mamba (50yo Mature): Foot Fighter Vs Wrestler – Foot Humiliation for the loser

PUBLISHED:&nbsp2015-01-17
 Black Mamba vs Scarlett is a confrontation between two beautiful women of different generations.
Scarlett loves to use her feet to fight, and Black Mamba is an old wrestler, that now teaches fighting
Scarlett affirm that his kind of fight is good, but Black Mamba is not so sure
She calls Scarlett Noob for her kind of fight, calling her useless
Her – and her feet. So she bets that she can own Scarlett obligating her at her feet
There is much struggle here, both ladies have trained and know how to apply holds that make the other scream for pain.
Head scissors, camel clutches, strangles, figure four leg… you name it!
The match seems to be even with an equal distribution of dominance, until the moment Black Mamba decides it's time to use her secret move and with an incredibly quick sequence of precise and powerful punches puts Scarlett out. ("Special Effect")
From now on, the more experienced woman will enjoy her total domination of an helpless Scarlett, whose weak reactions will be overpowered by her stronger opponent.
Humiliation, pushedfoot worship and total destrucion will be poor Scarlett's destiny of today.Black Mamba contro Scarlett è un confronto tra due bellissime donne di generazioni diverse.
Scarlett ama usare i suoi piedi per lottare, mentre Black Mamba è una vecchia wrestler, che ora insegna lotta
Scarlett afferma che il suo modo di lottare è ottimo, Black Mamba non è sicura.
La chiama novizia e inutile come i suoi piedi, e scommette che Scarlett finirà ai suoi di piedi invece.
C'è tanta lotta, tutte e due si sono preparate a dovere e sanno come applicare prese che fanno gridare l'altra di dolore.
Fobici alla testa e al collo, camel clutch, strangolamenti, figure four leg… c'è tutto!
L'incontro sembra avere un andamento alterno, fino al momento in cui Black Mamba decide di usare la sua arma segreta e con una rapidissima sequenza di pugni precisi e potenti mette Scarlett fuori gioco (Special Effect)
. Da questo momento, la donna con maggiore esperienza si diverte a dominare totalmente la sua vittima impotente, le cui deboli reazioni saranno completamente sopraffatte dalla più forte avversaria.
Umiliata, costretta ad adorarle i piedi, completamente distrutta – questo è il destino di Scarlett in questa triste giornata.
RELATED VIDEOS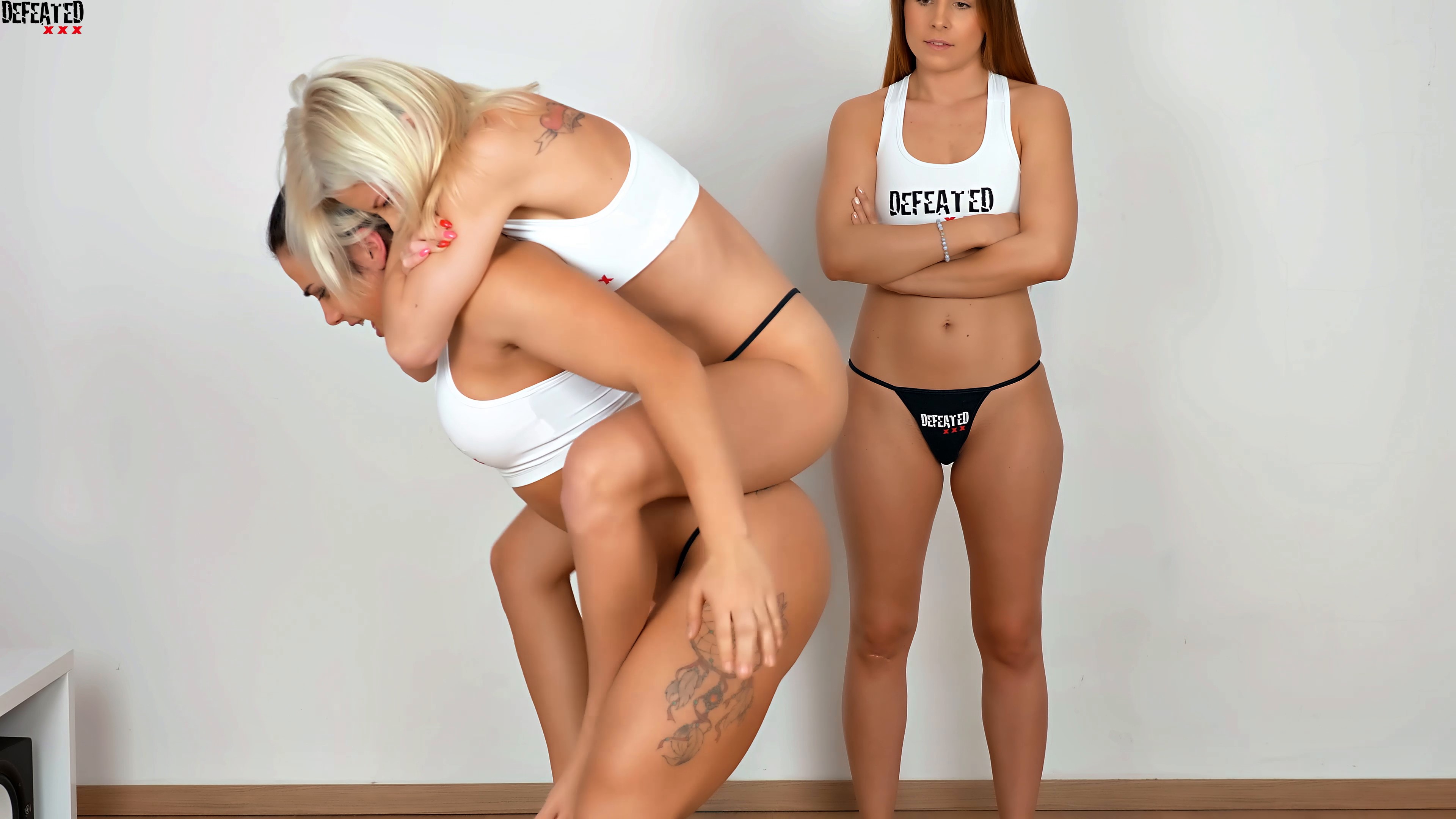 PUBLISHED:&nbsp2019-07-14

Defeated.xxx the best FETISH WRESTLING website around the net!
&nbsp

With the best fetish fighters around italy and europe, We produce many videos of many fetishes, including: Foot licking, foot kissing, foot smelling, bearhugs, knockouts, BBW wrestling, headscissors, facesittings, nipple torture, nipple twisting, sumiko Wrestling, Custom fetish video, Custom Porn video, Headscissor Knockout, Reverse headscissor, reverse headscissors and more! Join our membership section to see all our videos, we update many times each month!

&nbsp