Knife Fight ends in a Bearhug KO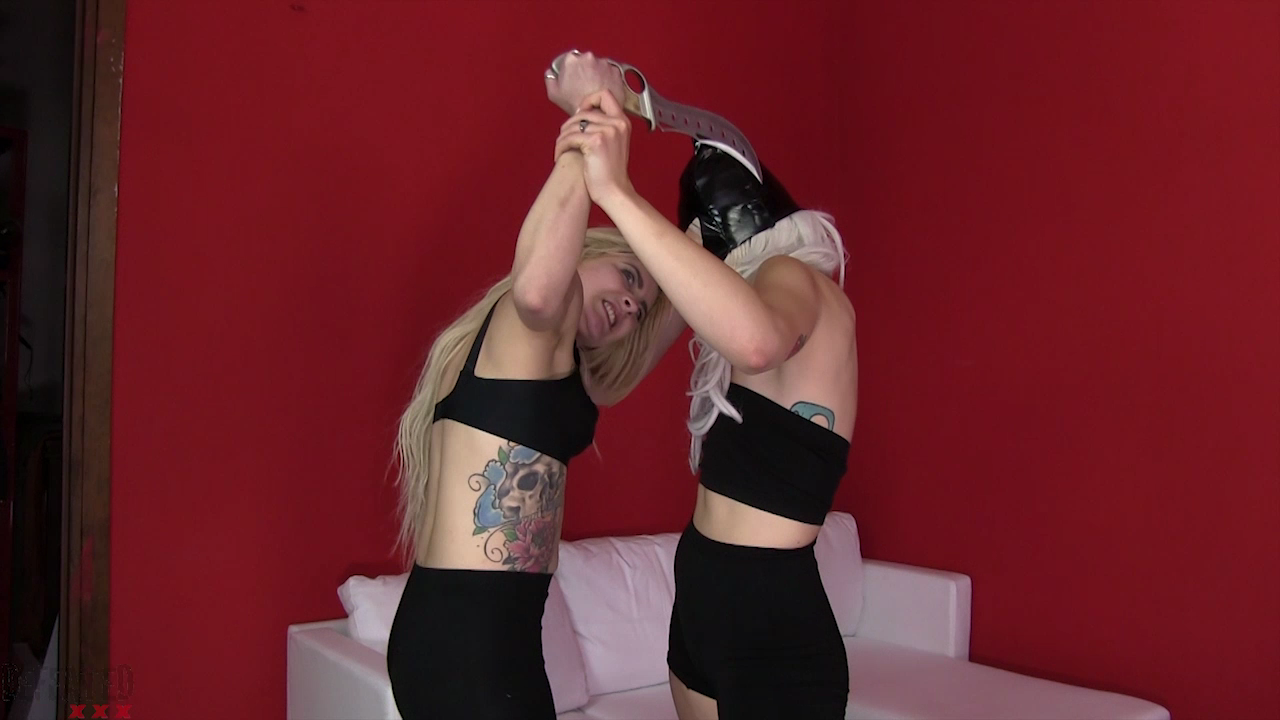 PUBLISHED:&nbsp2015-06-06
Knife Fight ends in a Bearhug KO
 –
Opening scene Scarlett reposeing on bed when door K.O. Stella at door waking her up.Stella says she is going to kill Scarlett for K.O out her friend Janelle. Scarlett says only one going out today is her for waking her up.Stella attacks with knife but Scarlett catches Stella knife hand. They lock fingers in test of strength with free arms, while knife hand side struggle. They clash chest to chest, body to body, strong staredown.
Stella try to stab Scarlett with knife, but Scarlett is strong and keeps knife away. Scarlett tells Stella when she gets her to the bed she is going to out her to repose.
Stella over confident says fight is not going to the bed, she will kill her standing up.Knife fight should be 2 or 3 minutes. Scarlett push Stella against wall and hits knife hand against wall, so Stella drops knife.
Now they lock hands in full fingerlock test of strength, body against body, staredown face to face, almost kissing so close. Stella says she does not need knife she will kill Scarlett with her bare hands!Test of strength for about 2 minutes until Scarlett knee Stella crotch and stomach, then wraps her up in bearhug.Scarlett picks Stella up in bearhug. Stella wraps her legs around Scarlett while in bearhug, scissoring her. Scarlett tells her she will take her to bed to out her to repose.
Stella has no choice but to go to bed for fight because she is in air against bearhug.
Scarlett carries Stella to bed and both fighters go to their knees, Stella still trapped in bearhug. Stella puts up good fight and struggle to get out, but Scarlett is too strong for her.
Scarlett mocks her saying she thought she was going to kill her, stare into her eyes almost kissing.
Last 5 minutes is slow bearhug Scarlett K.O Stella out on her bed.
At end Stella is arepose on Scarletts bed. Scarlett lays down next to another defeated opponent and goes to repose next to her.

[/am4show]
RELATED VIDEOS
PUBLISHED:&nbsp2019-05-20

Defeated.xxx the best FETISH WRESTLING website around the net!
&nbsp

With the best fetish fighters around italy and europe, We produce many videos of many fetishes, including: Forced foot licking, forced foot kissing, forced foot smelling, bearhugs, knockouts, BBW wrestling, headscissors, facesittings, nipple torture, deathfights, nipple twisting, sumiko Wrestling, Forced Foot smother, Custom fetish video, Custom Porn video, Foot smother, Footsmother, Headscissor KO, Headscissor Knockout, Reverse headscissor, reverse headscissors and more! Join our membership section to see all our videos, we update many times each month!

&nbsp