Foot Fetish Yoga teacher Plan

PUBLISHED:&nbsp2016-03-10
The Yoga instructor's Foot Fetish Plan
Nina is a gym instructor with a huge foot fetish, and like most people she's not so open about it even with her friends, she always finds herself staring at girls feet during training sessions, but being too hesitant to admit her fetish she tries to come up with gym exercises that allow her to interact with the girls feet in a subtle way.
In order to satisfy her lust, Nina comes up with a brilliant plan, she makes up a new technique she calls: the "The Cherkessian Communion", which is supposedly inspired by ancient spiritual teachings, this technique -as she explains it- is based on the exchange of energy between bodies, she claims that the spirit's energy flows from the top of the head down to the feet before they finally reach the earth and disappear. so in order to preserve this energy and maintain the circulation of positive energy; there are two parts of the body that should remain in contact, the feet and the face.
One of the regular gym attendants is Stella, who has the most beautiful feet Nina has ever seen, she's been dreaming about her feet for a long while now and it's time to take action.
Stella receives an instructions manual after Nina's mambo jumbo lecture so she can follow the steps carefully. She takes a look at it and she's immediately convinced "This actually makes sense, sign me up please!"
Throughout the exercise, Nina has Stella's feet either pressed to her face or stuffed in her mouth, she is so horny and hungry for feet, and she can't help but touch herself when Stella is not looking, all while Stella is being so innocent thinking this is a really interesting and fun technique. In fact, Stella seems to be enjoying the new experience she even suggests new moves.
At the end, Nina cannot control herself anymore, she holds on Stella's foot tightly in her mouth and keeps touching herself, Stella sees her and is shocked by this behavior, and she wants to punish her.
Stella shoves her whole foot into Nina's mouth once again. Nina starts fighting back because she had enough feet for one day, but Stella insists on gagging her until she passes out.
Including:
Foot Fetish
Foot Smother
Lenght: 26:00 Minutes
LANGUAGE: 
Format: MP4
Resolution: HD
Price: 19.99€ Downloads are temporarily unavailable
RELATED VIDEOS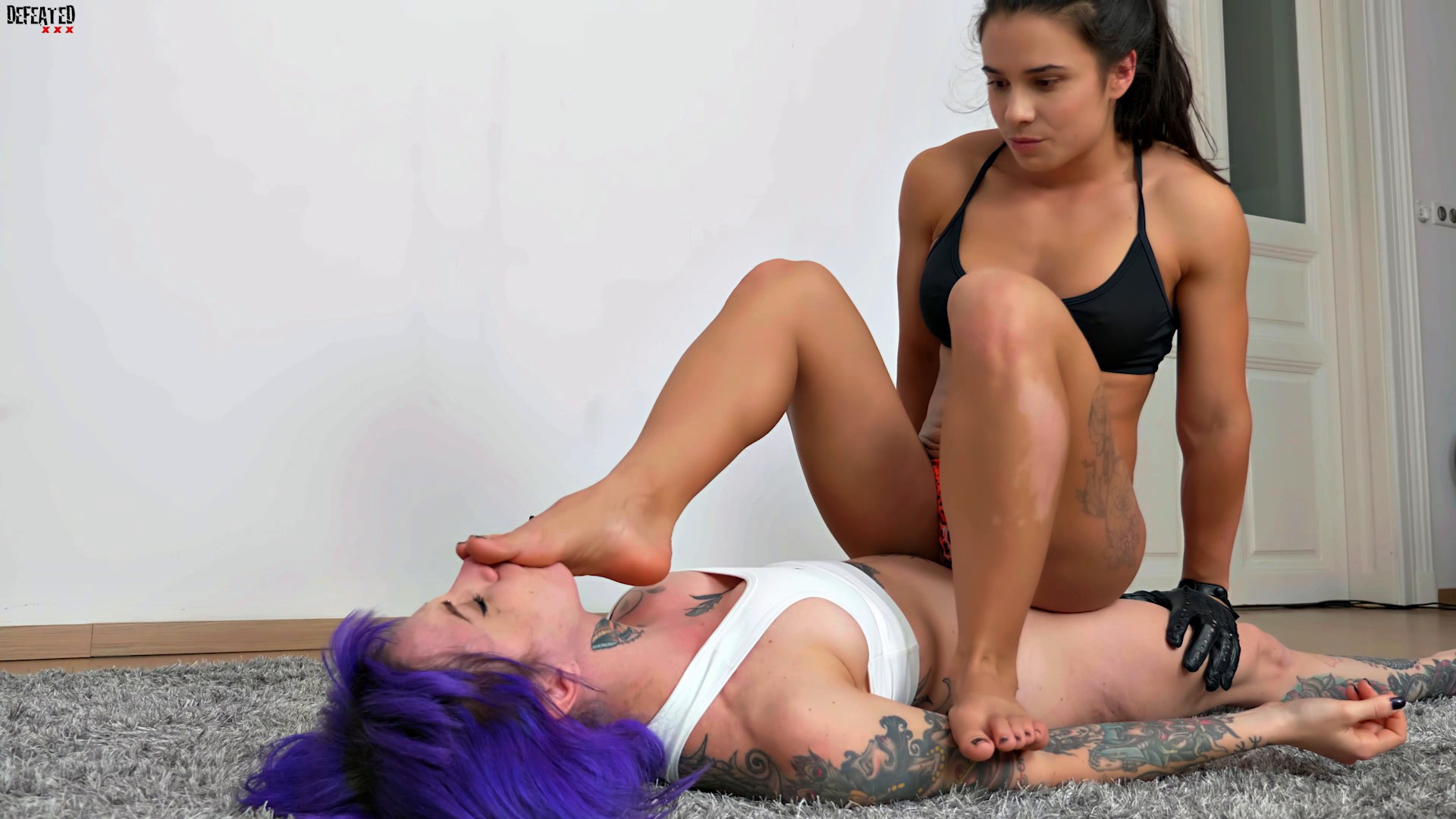 PUBLISHED:&nbsp2019-01-18

Defeated.xxx the best FETISH WRESTLING website around the net!
&nbsp

With the best fetish fighters around italy and europe, We produce many videos of many fetishes, including: Forced foot licking, forced foot kissing, forced foot smelling, bearhugs, knockouts, BBW wrestling, headscissors, facesittings, nipple torture, deathfights, nipple twisting, sumiko Wrestling, Forced Foot smother, Custom fetish video, Custom Porn video, Foot smother, Footsmother, Headscissor KO, Headscissor Knockout, Reverse headscissor, reverse headscissors and more! Join our membership section to see all our videos, we update many times each month!

&nbsp