Dancer Vs Model Vs Biker: Female Wrestling with nipple torture and scratching!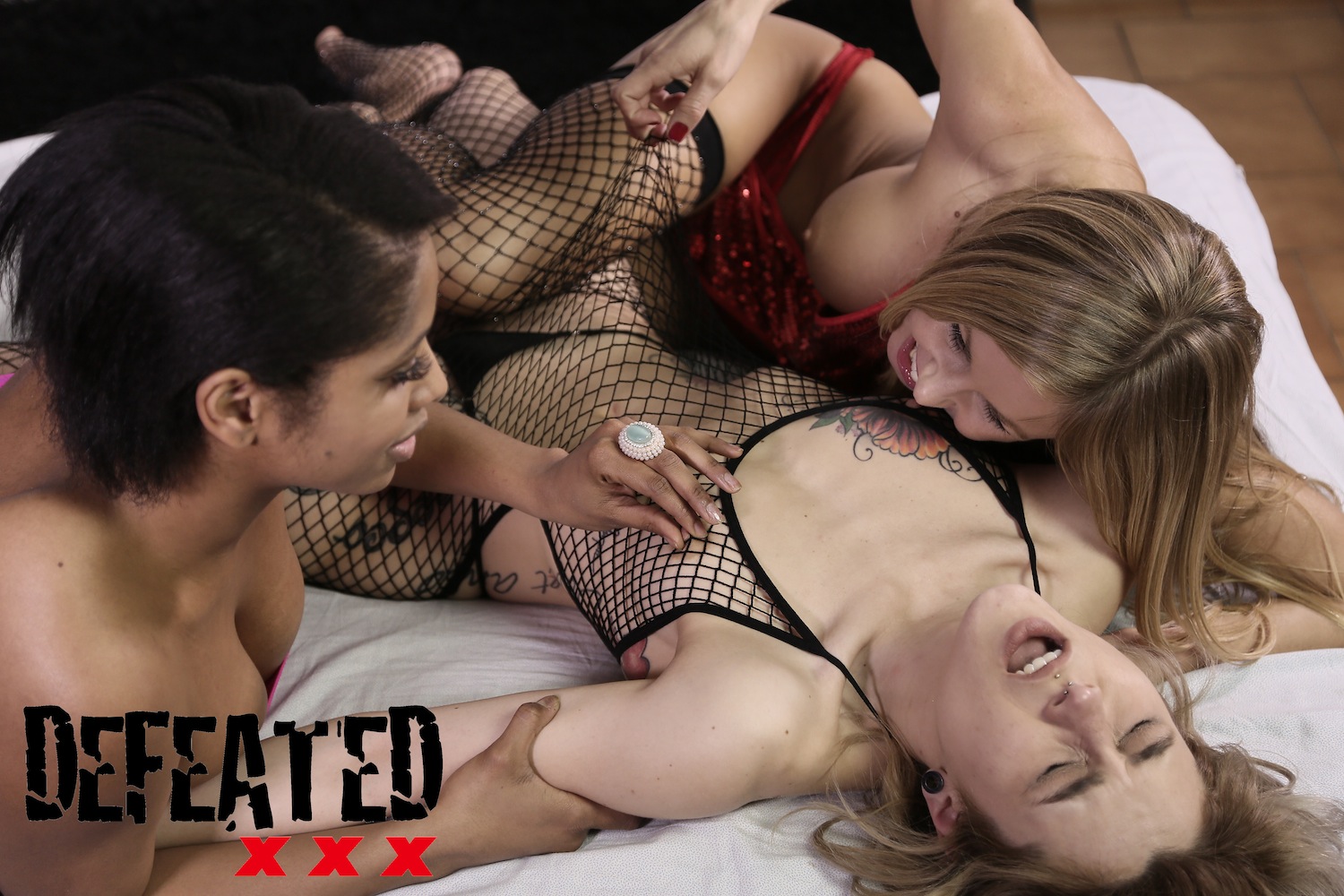 PUBLISHED:&nbsp2015-04-02
Dancer Vs Model Vs Biker: Female wrestling nipple torture
Janelle, Sarah Jain and Stella have agreed to a 3 way fight over 9 rounds.
Win is by submission or pin for a count of 10.
The loser of each round has to fight again and the girl who loses most rounds has to submit to punishment from the other 2 girls.Stella is a good wrestler but eventually she is defeated by Janelle's strength and by Sarah Jain's dirty fighting.

Janelle v Stella
Janelle body pins Stella a few times, but Stella keeps escaping before the count of 10.
Eventually Stella breaks free completely and wraps her arm around Janelle's neck, choking her.
Janelle can't breath and quickly submits, but Stella wants to show off her wrestling skill and continues until the count of 10. Stella wins.
Janelle is angry with Stella for continuing after she submitted.Round 2
Janelle v Sarah Jain
Janelle quickly traps Sarah Jain in a reverse facesitting. Sarah Jain hates being in a facesit, she desperately tries to escape but can't and soon submits.
But Janelle holds her in the facesit until the count of 10 anyway. Janelle wins.Round 3
Sarah Jain v Stella
Sarah Jain takes Stella by surprise, attacking before the round has even be. Sarah Jain grabs Stella by the hair and pushs her into a headscissor.
She then puts her hand inside Stella's top and twists her nipples.
Stella submits and Sarah Jain wins the round.
Stella is shocked how quickly she lost and at Sarah Jain's dirty fighting.Round 4
Stella v Janelle
Both girls try to win by body pin. Janelle soon takes control and pins Stella.
Stella manages to push Janelle away twice before the count of 10, but on the third attempt Janelle succeeds. Janelle doesn't stop after the count of 10 though.
She wants revenge for round 1 when Stella didn't stop. Janelle adds insult by lifting Stella's top up to expose her breasts and then holds her in the pin for another count of 10. Janelle wins.Round 5
Stella v Sarah Jain
Stella wants to make Sarah Jain suffer in revenge for her cheating in round 3.
Stella quickly takes control, she puts Sarah Jain in a reverse facesitting and pulls her top aside to expose Sarah Jain's breasts. Stella holds the facesit until the count of 9, then releases Sarah Jain.
Sarah Jain is desperate to escape another facesit, she rolls away and gets up to her knees, trying to get her breath back. While she is recovering Stella sits back to back with her and puts Sarah Jain in the position as the first picture attached.
Stella then chokes Sarah Jain until she submits. Stella wins the round.Round 6
Sarah Jain v Janelle
Janelle soon takes control and traps Sarah Jain in a camel clutch.
Janelle then pulls Sarah Jain's top aside to expose one of her breasts and twists Sarah Jain's nipple. Sarah Jain eventually submits and Janelle wins.Round 7
Sarah Jain v Stella
The round starts with a test of strength (locking hands in a competition of who is strongest).
Stella is stronger and after pushing Sarah Jain down, she wraps her arm around Sarah Jain's neck, choking her.
Sarah Jain looks like she will have to submit, but she grabs Stella's hair and starts pulling.
Stella hates having her hair pulled.
They continue, Stella choking Sarah Jain and Sarah Jain pulling Stella's hair. Eventually Stella can't stand the hairpulling anymore and Sarah Jain takes control. She pushs Stella down and reverse facesits her.
Sarah Jain wants revenge for what Stella did in round 5, so she facesits Stella twice to a count of 9 before breaking the hold.
Sarah Jain then puts Stella in a headscissor (same position as round 3), she pulls Stella's top up to expose her breasts and starts twisting Stella's nipples. Stella has to submit and Sarah Jain wins.Round 8

Stella v Janelle
Janelle grabs Stella and bearhugs her. Stella is soon breathless and defenceless. Janelle puts Stella into the position as below.
Although in pain Stella doesn't submit, she knows she's lost too many times already.
Janelle pushes Stella's top up to expose her breasts, hoping the humiliation will make Stella submit.
Then Janelle puts her hand inside Stella's skirt for an implied crotch attack.
Stella struggles to escape but can't and eventually has to submit. Janelle wins.

Round 9
Stella v Sarah Jain
The girls start with a test of strength. It's soon clear that Stella will win again, so Sarah Jain lets go and instead grabs Stella's top.
She pulls Stella's top off and throws it away.
Stella wants her top back and goes after it. Sarah Jain seizes the opportunity,
pushing Stella face down on the bed, she sits on Stella's back.
Sarah Jain then takes Stella's hands and unfastens her gloves.
Sarah Jain fastens each glove to the other (so that Stella's hands are tied behind her back).
Sarah Jain then enjoys pulling Stella's hair for a while.
Next she pushs Stella onto her knees, holding her in place by the hair.
Sarah Jain then puts her hand inside Stella's bodystocking and runs her fingers slowly across Stella's body. Stella is in pain but won't submit and tries to free her hands.
Just when it seems Stella will have to submit, she manages to unfasten her gloves and free her hands
Stella pushes Sarah Jain down and tries to body pin her. But Sarah Jain grabs Stella's hair and pushs Stella off. Then she body pins Stella.
Stella has the strength to push Sarah Jain off though.
So Sarah Jain puts Stella in a headscissor hold and twists her arm to weaken it.
Sarah Jain then body pins Stella again.
With her arm weakened Stella manages to resist one more time, but then Sarah Jain finally manages to pin her for 10 to win the round.Loser's punishmentJanelle and Sarah Jain discuss what they'd like to do to Stella.
First they decide to pay her back for the choke holds.
They push Stella onto her knees back to back with Janelle.
Janelle then holds Stella in the position as the first picture attached, choking her from behind.
Sarah Jain just enjoys watching Stella struggle and suffer for a while. Then she decides to add to the pain.
First she pulls Stella's hair, then she scratches Stella's breasts.Next they put Stella's into the position as the second picture attached, with Janelle holding Stella's hands between her legs.
Sarah Jain is free to torture Stella. She scratches Stella, bites her nipples and plays with her bodystocking, pulling the mesh back and forth across Stella's nipples.
Finally they take Stella's skirt off and put Stella on her back, each pinning one of her arms and each trapping one of her legs between their own.
They pull Stella's hair, bite and twist her nipples and pull the bosystocking mesh across them until they're satisfied they've inflicted enough pain.Language is English!Including:
Female wrestling Nipple Torture
Scratching
Headscissors
Facesitting
[/am4show]
RELATED VIDEOS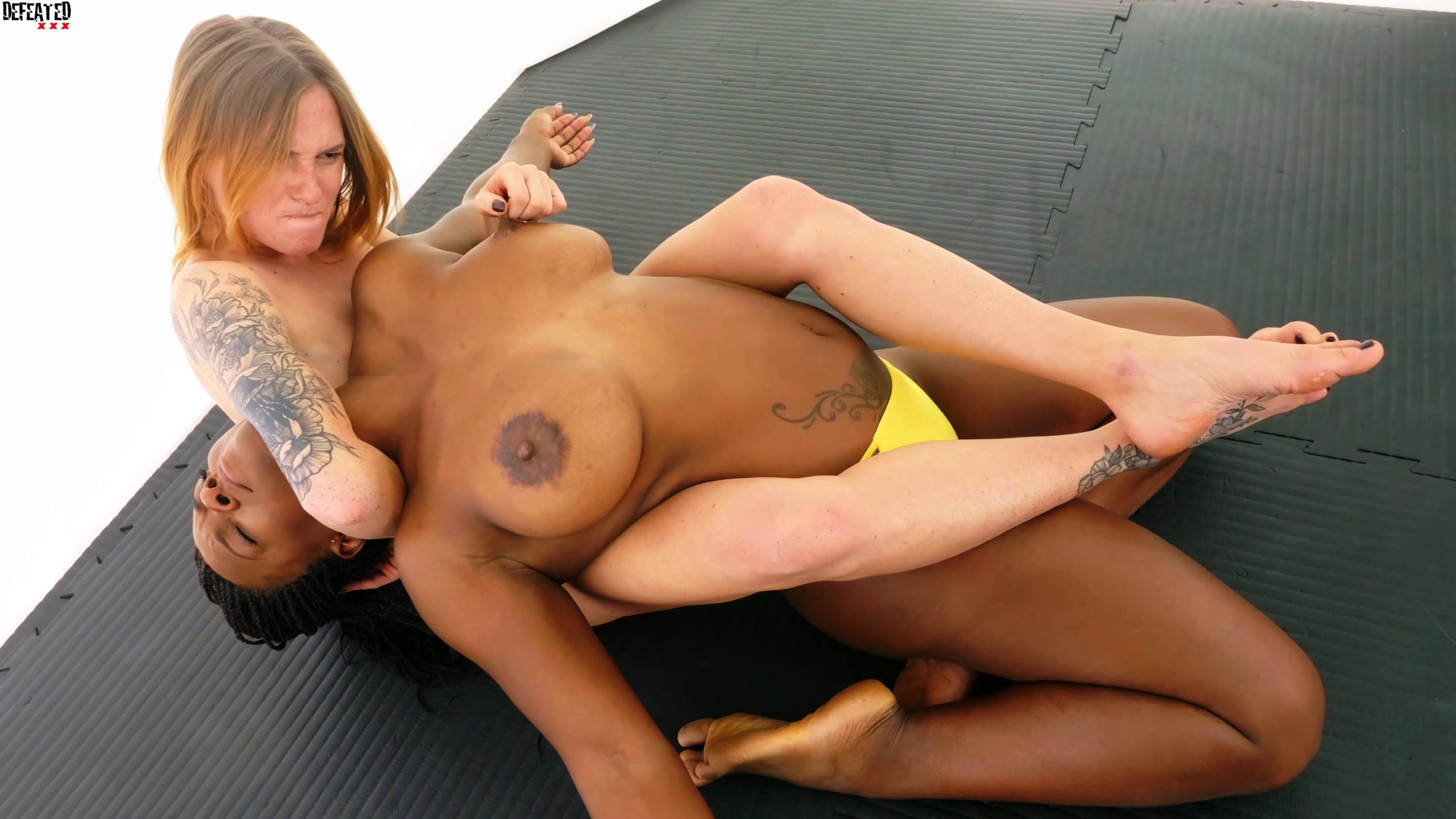 PUBLISHED:&nbsp2020-03-29

We produce many videos with the best fetish fighters around Europe. Our fetish genres include: girls fighting, catfight, female wrestling, foot licking, foot kissing, foot smelling, bearhugs, knockouts, limp play, over the top reactions, super heroines fight, facesitting, BBW wrestling, headscissors, facesittings, belly punching, boxing, fist fight, lift and carry, nipple torture, nipple twisting, wrestling, custom fetish video, custom Porn video, headscissor knockout, reverse headscissor and much more! Join our membership section to see all our videos, we update many times each month!
&nbsp