Bearhug K.O Knife Fighting – The secret Mission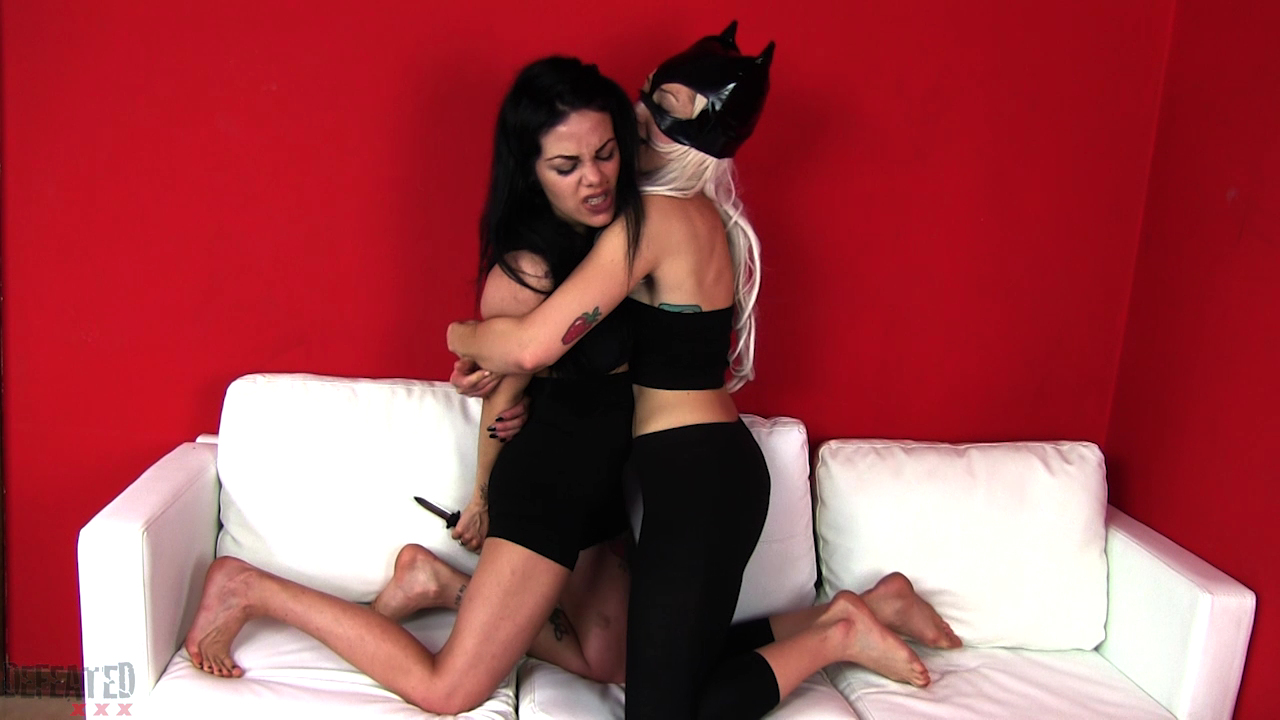 PUBLISHED:&nbsp2015-06-20
Bearhug K.O Knife Fighting – The secret Mission
Attire: Yoga shorts or pants and bra (both)
Ginevra with knife
Setup: Ginevra is in her apartment charged with guarding important disk that contains government secrets. She knows enemies are looking for it, and will do anything to get it. She is supposed to call for backup if she detects threat.. but she is overconfident in thinking she is strong.Door K.Os. Ginevra has her knife in hand, ready, opens door, looks around. Nobody there. She goes back to her bed.
Door K.Os again, Ginevra uses her phone to call for backup. She says on phone "You will be here in 15 minutes? Good. I do no not need backup though, I can handle whoever is there. They will regret it! Do not tell me to answer door nobody will get past me to the file."Ginevra has knife in hand again, opens door, and before she even realizes what is going on, Scarlett charges in, grabbing hold of Ginevra knife hand with one hand, and other hands they lock fingers in fingerlock test of strength.
They clash chest into chest, belly into belly, face to face, eye to eye.
Scarlett kicks the door closed to make sure no neighbors hear what is going on.Scarlett demands government file and she will let Ginevra live. Ginevra is angry that she is taken by surprise, but over confident she will kill her attacker and tells Scarlett she is will kill her. Ginevra does not speak much more after other than saying she will kill Scarlett.Ginevra tries to stab Scarlett with knife, but Scarlett is strong. They struggle across room, against wall, on floor, on bed. First 4 minutes or so of match is just body to body chest to chest knife struggle.5 minute mark – Scarlett takes battle to the bed, both fighters on knees. Scarlett pushes Ginevra's knife hand behind her back and pull in, in a bearhug. Ginevra still holds knife, but she is now in bearhug with the knife.Their other hand are pulled behind Ginevra's back and she is now in full bearhug, still holding knife. Ginevra is furious she is losing.
Bearhug with knife struggle until Ginevra drops knife.. and fights way to get her arms outside of bearhug. (Scarlett arms on inside of bearhug, Ginevra arms on outside, for better fight.)
Scarlett slowly bearhugging Ginevra to KO. Ginevra puts up good fight, trying to get out. She struggles hard, but she is no match for Scarlett.
Scarlett puts Ginevra to repose on the bed from the bearhug. She takes the USB Jump Drive and kisses it. "I got it"
She looks at Ginevra "All you had to do was give me this and you'd still be here okay!"
It's only been 10 minutes.. not enough time for Ginevra's backup to arrive. She was overconfident in her ability, all she had to do was wait for backup instead of answering door. But her overconfident attitude was her downfall.
Lenght: 15:00 Minutes
LANGUAGE:
Format: MP4
Resolution: HD
[ ]
Price: 11.99€

RELATED VIDEOS
PUBLISHED:&nbsp2019-08-25

We produce many videos with the best fetish fighters around Europe. Our fetish genres include: girls fighting, catfight, female wrestling, foot licking, foot kissing, foot smelling, bearhugs, knockouts, limp play, over the top reactions, super heroines fight, facesitting, BBW wrestling, headscissors, facesittings, belly punching, boxing, fist fight, lift and carry, nipple torture, nipple twisting, wrestling, custom fetish video, custom Porn video, headscissor knockout, reverse headscissor and much more! Join our membership section to see all our videos, we update many times each month!
&nbsp