Scarlett Vs Sarah Jain: Abs Stretch and Nipple torture with Wrestling holds!

PUBLISHED:&nbsp2015-05-17
Scarlett Vs Sarah Jain: Abs Stretch and Nipple torture with Wrestling holds!
Sarah Jain has come to Scarlett's house under the pretense she will get to act out her personal lesbian fantasy of sexually and sadistically dominating another woman.
She has paid a handsome fee for this opportunity and is excited to act out her fantasy.
Little does she know that SHE will be the one dominated in ways she never dreamed of.Sarah enters the room, dressed in bikini, collar, arm covers and high heels, carrying a flogger, and finds Scarlett laying on her side in the bed.
She commands Scarlett to lie on her back, as she moves to the bed and straddles Scarlett, sitting over her thighs.
Sarah exposes Scarletts breasts and teasingly runs the flogger over them.
As Sarah lifts her arm to flog her breasts, Scarlett launches her surprise.Scarlett grabs Sarahs raised arm in a vise grip, punches her in the belly, and with a sweeping motion of her arm, swipes/K.O Sarah off the side of the bed.
Sarah is caught totally by surprise by Scarletts strength, and helpless to prevent it.Scarlett now pulls Sarah up off the floor by her hair, rips her top COMPLETELY off, and begins punishing her breasts and stretching out her abs.
As Sarah whimpers this isnt the way its suppose to be, she stretches her abs, sucks in her belly and arches her back to the max.Scarlett puts Sarah in numerous wrestling holds that feature stretching.Sarah's belly and arching her back to the max, both on the bed and floor, as she totally dominates and controls our helpless victim.
Near the end, Scarlett REMOVES Sarahs arm covers and cuffs Sarahs hands. The video ends with Sarah from a breast smother, stretched out over an ottoman with hands cuffed over her head.Language is English!Including:
ABS Stretch
Nipple Torture
Wrestling
Lesbian Domination
Handcuffed
RELATED VIDEOS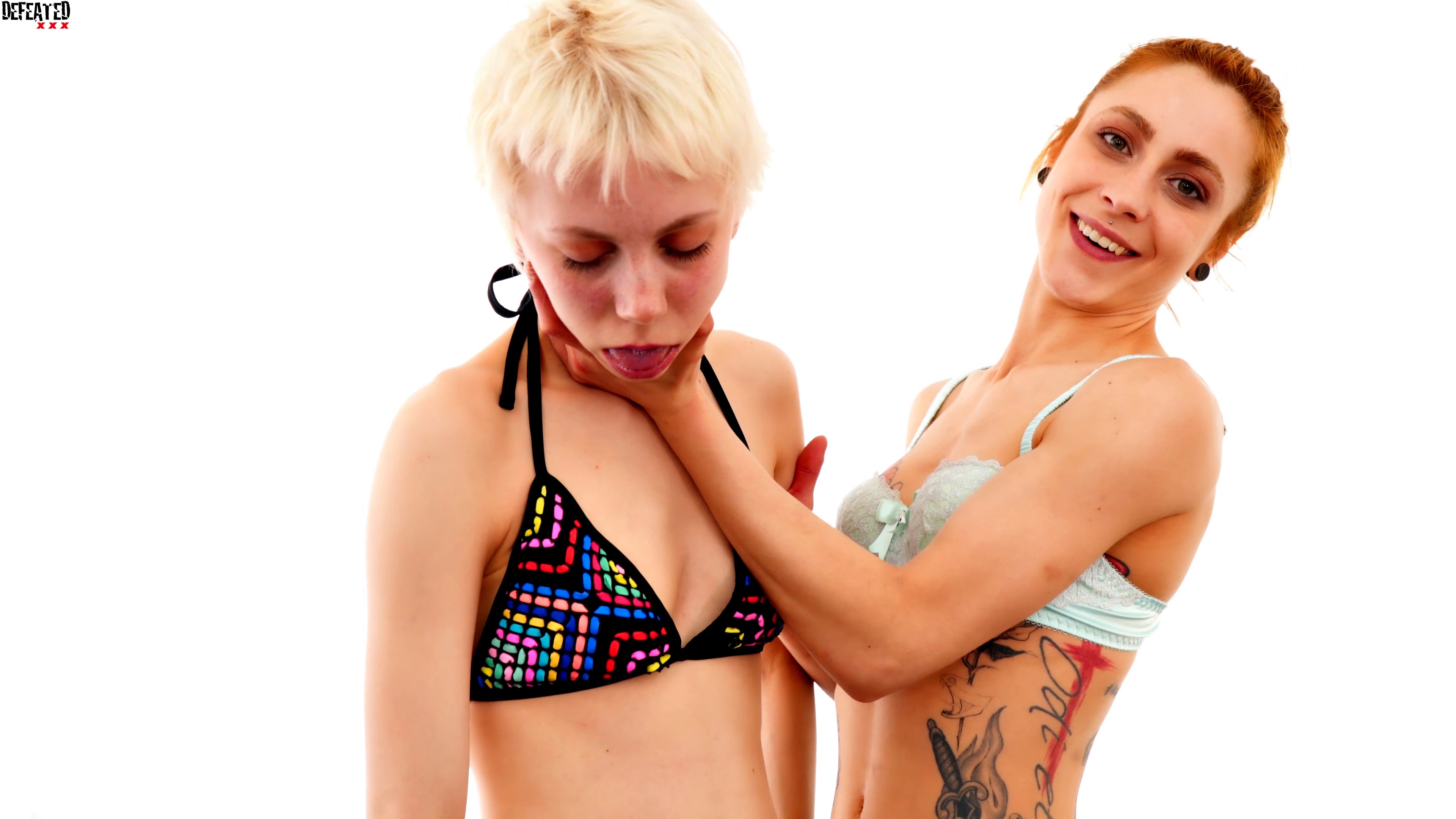 PUBLISHED:&nbsp2019-06-11

Defeated.xxx the best FETISH WRESTLING website around the net!
&nbsp

With the best fetish fighters around italy and europe, We produce many videos of many fetishes, including: Forced foot licking, forced foot kissing, forced foot smelling, bearhugs, knockouts, BBW wrestling, headscissors, facesittings, nipple torture, deathfights, nipple twisting, sumiko Wrestling, Forced Foot smother, Custom fetish video, Custom Porn video, Foot smother, Footsmother, Headscissor KO, Headscissor Knockout, Reverse headscissor, reverse headscissors and more! Join our membership section to see all our videos, we update many times each month!

&nbsp