Tagteam match – Newcomers Vs Veterans – Stella and S.Lilith Vs Scarlett and Cherie – Loser tied up, gagged and humiliated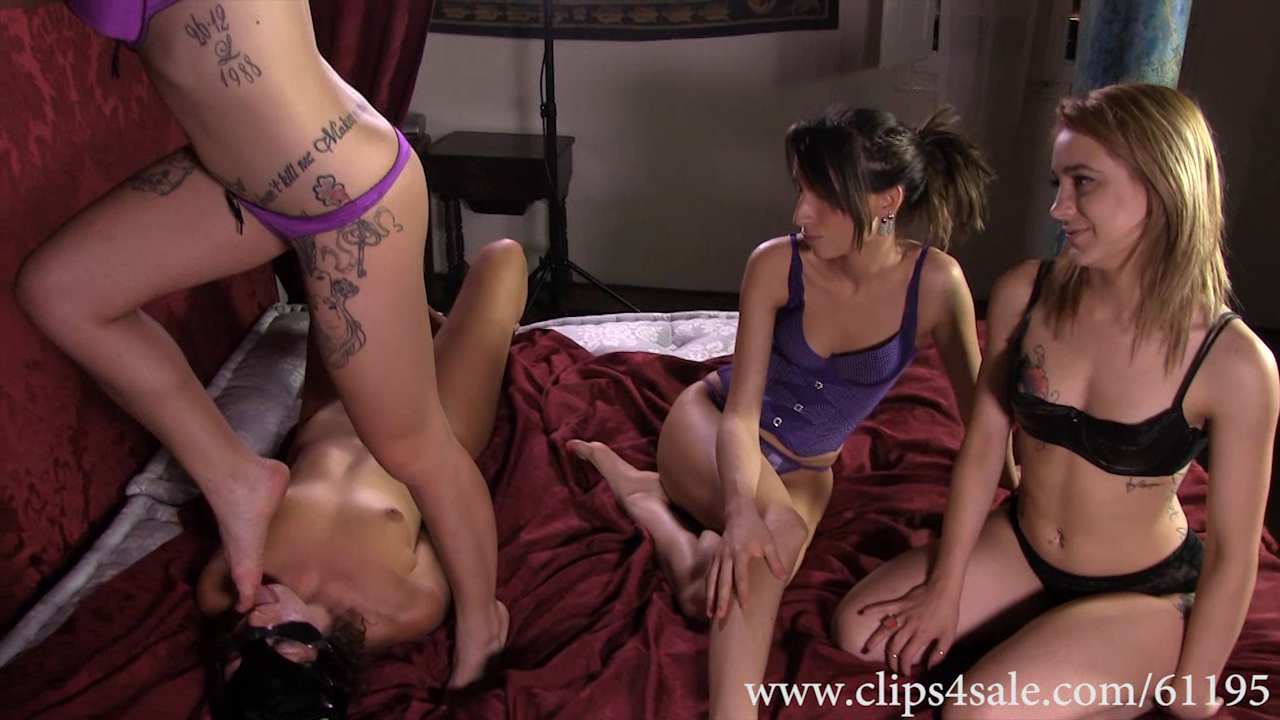 Story:
This is a tag team match. Scarlett, the champion, and Cherie are on one team. Stella and Sara are on the other team.
Rules: One person from each team starts the match.
The other fighters are away from the bed. The first team to have someone submit on the bed loses the match.
Scarlett and Stella start the match off.
Scarlett underestimates Stella. Stella dominates Scarlett. She forces her feet into Scarlett's mouth and rubs her feet on Scarlett's pussy. Scarlett comes close to orgasm when she finally pushes Stella off her and runs to tag Cherie.
However, Cherie betrays Scarlett and instead kicks her in the stomach. Stella forces Scarlett to go back on the bed. Stella tags Sara in.
Scarlett is still hurt from the kick from Cherie.
Sara takes advantage and puts Scarlett in a body scissor, hurting Scarlett's stomach more. Cherie laughs at Scarlett and tells her to just surrender already.
Scarlett continues to fight but is getting too weak. Sara squeezes harder and Scarlett from the body scissor.Scarlett dominated:Scarlett is stripped naked. Her hands are handcuffed behind her back. Her feet are tied with rope. She is not gagged.
Stella, Sara and Cherie come into the room. Cherie tells Scarlett how much she's wanted to see the champion defeated and helpless.
Stella, Sara and Cherie force Scarlett to kiss their feet.
Then they force their feet into Scarlett's mouth.
Scarlett has to worship all of their feet at once.
After the foot worship, Cherie stuffs a cloth into Scarlett's mouth and wraps her mouth with tape.
Stella also takes the duct tape and wraps Scarlett's thighs and knees.
After securing Scarlett, Sara and Stella betray Cherie and tape her up.
Stella and Sara leave Scarlett and Cherie to struggle.LANGUAGE IS ENGLISH!
RELATED VIDEOS
Defeated.xxx is about fetish fighting
&nbsp

With the best fetish fighters around italy and europe. It includes forced foot licking, forced foot kissing, forced foot smelling, bearhugs, knockouts, BBW wrestling, headscissors, facesittings, nipple torture, deathfights, nipple twisting, sumiko Wrestling, Forced Foot smother, Custom fetish video, Custom Porn video, Foot smother, Footsmother, Headscissor KO, Headscissor Knockout, Reverse headscissor, reverse headscissors and more!

&nbsp