If you wake up me again… I put you to sleep – Bearhug KO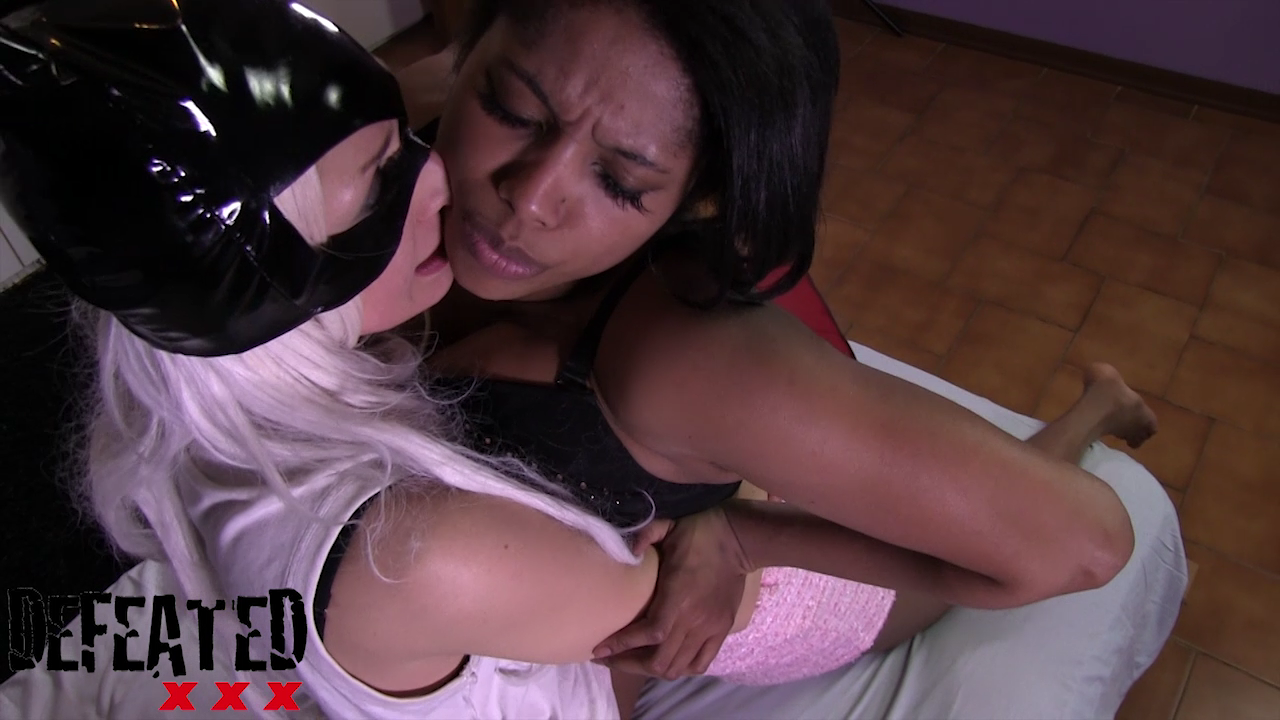 If you wake up me again… I put you to sleep – Bearhug KO
Scarlett sleeping on bed in night gown, wakes up door knocking and goes to answer.
At door is Janelle. Scarlett says "Last time someone woke me up, I put her to sleep on that bed right there" and points to the bed.
Janelle looks at bed and says "You will not be putting me to sleep, you won't even get me to that bed!"
Janelle has cocky attitude thinking she will win, and grabs Scarlett into bearhug. (Arms outside of Bearhug)
Scarlett in bearhug, arms outside, she struggles to get out. Hands over mouth, hair pulling, anything to get out. Eye contact.
Scarlett knees and punches Janelle a couple times. Janelle is distracted and loses bearhug.
Staredown. Both tie up into fingerlock test of strength, chest to chest, belly to belly, face to face. They stare each other down, strong eye contact. Fingers interlocked, struggling. Janelle is still cocky thinking she will win.
Fingerlock test of strength continues, very slowly Scarlett is pushing Janelle towards the bed.. the bed that Janelle said Scarlett would never get her to. Janelle look at bed couple of times, almost nervous, as she told Scarlett she would not get her to the bed.
Scarlett knees Janelle and wraps her up in the bearhug. (Arms on outside of bearhug.) Scarlett takes the battle to the bed. She says something like "I told you I would take you to the bed" Janelle is still cocky, saying it is not over, she will still win.
Both wrestlers on knees, in bearhug, face to face on bed, belly to belly, struggling.
Bearhug battle continues on bed. Janelle is putting up very good fight, hands over mouth, pulling hair, trying to get Scarlett's hands off of her. Strong eye contact. Janelle cannot believe the battle is on the bed when she said she would not go there. Scarlett mocks her "I thought we would not take fight to the bed?"
Janelle is getting weaker. They stare eachother down, Scarlett knows she has won, but Janelle is still struggling.
Slowly, Scarlett puts Janelle to sleep in her bearhug. Janelle fights to the end, but she was not strong enough.
Scarlett makes comment something like "I thought you were going to win?"
Janelle stares at her, trying to break free of bearhug.
Scarlett then goes to sleep again laying next to her defeated opponent Janelle. Another opponent came knocking on her door looking for a fight she thought she could win, but instead ends up going to sleep on Scarlett's bed.
Language is English!
Including:
Bearhug
Belly Punching
Eye Contact
RELATED VIDEOS
Defeated.xxx is about fetish fighting
&nbsp

With the best fetish fighters around italy and europe. It includes forced foot licking, forced foot kissing, forced foot smelling, bearhugs, knockouts, BBW wrestling, headscissors, facesittings, nipple torture, deathfights, nipple twisting, sumiko Wrestling, Forced Foot smother, Custom fetish video, Custom Porn video, Foot smother, Footsmother, Headscissor KO, Headscissor Knockout, Reverse headscissor, reverse headscissors and more!

&nbsp